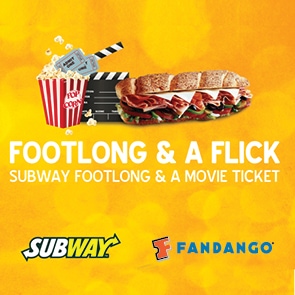 There is a *HOT* offer on Sharing Spree today. You can get a $5.00 Subway Gift Card AND $12.00 Fandango Movie Ticker for only $11.00! Even though this is listed under Portland, it is a National deal.
To Take Advantage of This Offer:
Head over to Sharing Spree and click "Buy" on the deal
After your purchase is complete, you will receive (2) unique codes. You will find both codes needed to redeem in the upper right corner of your voucher. Each code is separate by a "/" symbol. One will be used to redeem and receive your Fandango movie ticket instantly. The other code will be used to redeem your Subway Card, this will be shipped to you within 14 days from the date you redeem
The Fine Print:
May buy 4 per household
Subway card never expires but you have until 12/31/11 to redeem your voucher
Fandango promo code expires 12/31/11
**Be sure to read all the fine print before purchasing this offer**
Thanks reader, Amanda for the tip!