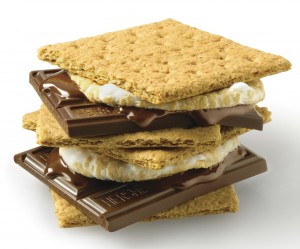 I don't know about you, but when I think of summer, one of the first things that comes to mind are S'mores! That's my favorite part of camping – roasting my marshmallow until it's flaming. Yes, I'm weird like that – please tell me I'm not the only one that loves my smores nice & crispy! My hubby likes the evenly browned marshmallows – he's always appalled that I'll burn mine to a  crisp…but I just love the flavor! :) I mentioned on the Thrifty NW Mom facebook fan page that we were heading to the Washington coast this weekend for Father's Day.  We were hoping the weather would be nice enough for a little fire on the beach, but it's just not cooperating with us. Maybe tomorrow night it'll be a little less windy, misty & warmer! But, for tonight, we've moved the s'mores indoor.  Gotta have those s'mores!
I'm excited to be a part of a Hershey's campaign this summer, with a surprise theme with Hershey's & S'mores along with a fun  giveaway coming in just a few weeks.  If you'll be enjoying any S'mores this summer, you can share your favorite S'mores moments in monthly contests on Hershey's Facebook page for a chance to win S'mores-themed prizes. The grand prize is a Canon Rebel camera (ahh, this is the camera that I want!), slate marble outdoor firebowl, $250 Snapfish gift card, roasting skewers set & all the ingredients needed to make S'mores, including Hershey's milk chocolate bars.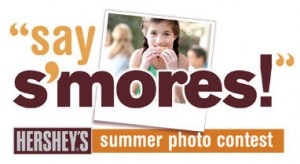 Hershey's $1 off 2 Printable Coupon:
You can head on over to the Hershey's Facebook page, "like" the page & click on the "Say Smores" tab to print off your $1 off 2 coupon for  Hershey's milk chocolate bar (6 pack).
So, I'd love to know what's your favorite way to make S'mores!!  Are you a meticulous S'mores cook, making sure your marshmallow is perfectly browned on all sides or do you love to sink it into the fire & have a nice charred, crunchy marshmallow a few minutes later? Or maybe you have a special ingredient you add to your S'mores?
This post is part of my participation in the Hershey's "Say S'mores" promotion.   All opinions are 100% mine. See my disclosure statement for more details.