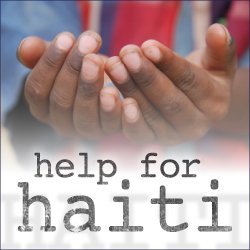 Wow, what a wonderful response I had from all of you with my Help for Haiti post! To be honest, I normally would not feel comfortable with sharing about our giving (especially on something as public as this blog) as I feel that this is something that is between us and the Lord. However, after hearing about Money Saving Mom's request for bloggers to participate & encourage our readers, I realized that I could use this blog to make an impact by spreading the word and challenging others to find creative ways to help those in Haiti! I am amazed by the response – as of right now, there are over 90 bloggers who have linked up to my post to help spread the word! Wow!!! Many of you have used your personal, family blogs to spread the word to your friends & family & it will definitely make a difference for the people of Haiti! As of right now, I've had 91 bloggers link up and 57 comments, which equals $120, which we can donate to World Vision. Thank YOU, readers, for making this happen by blogging, commenting and spreading the word!!
I really encourage all of you to check out these blogs to find all the unique ways that people are helping to spread the word and do their part to help those in Haiti! One of the blogs that really encouraged me was this post from The Saved Quarter, sharing how her donation went from $10 to $100, just by commenting and linking up to various blogs!! Isn't that cool?! I encourage you to head over to Money Saving Mom's site and go thru her list of almost 400 bloggers as well as those listed on my post and in the comments, to find more ways you can help!
One other neat idea that many people mentioned was donating your Swagbucks to help the people of Haiti. You can go HERE to donate your swagbucks and they will be used to make donations to three organizations: American Red Cross, Doctors without Borders, and Yele.org (Wyclef Jean's relief organization). If you're unable to provide a donation for financial reasons but you've been accumulating those Swagbucks, this is a great way to help!