Help Families this Summer with a SIMPLE Service Project & Enter to win $25,000 for your School District
This post may contain affiliate links and I may be compensated for this post. Please read our disclosure policy here.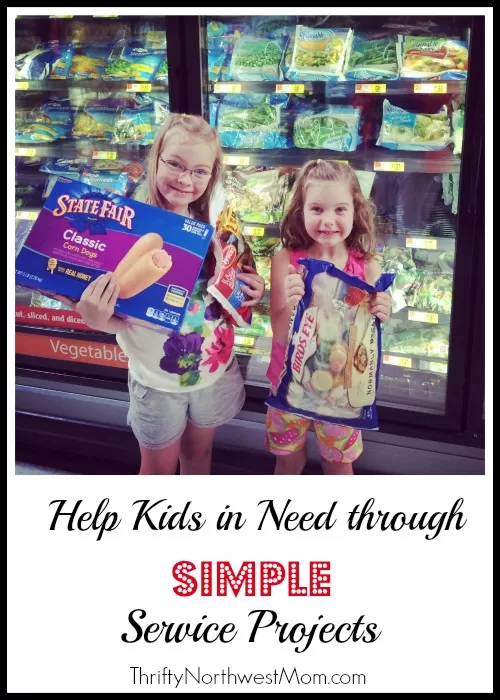 Summertime is a time of fun in the sun, vacations & summer camps for many families; however, there are a number of families that are struggling just to provide food on the table for their kids, which is made even harder over the summer.  Here in the US, 10% of children live in homes where they don't know when or if they will get that next meal. Many families depend on the nationally-funded school & preschool programs which provide healthy breakfast & lunches for kids during the school year. There are some communities able to provide lunches at local parks for kids in need over the summer, but this is not accessible or a possibility for families in all communities. Combined with the fact that donations are down over summer months in food banks, it is critical for people to step up to help families in need during this time.
Champions for Kids is an organization which has realized this is a strong need across the country and they've started the Champions for Kids SIMPLE service projects to encourage people to help families in need in your own communities. They are calling it a #SummerOfGiving, where they are teaming with Walmart to provide 5 million meals for kids this summer.
4 Steps to a SIMPLE service project:
1. Gather your friends, family & co-workers
2. Learn about the needs of children in your community
3. Give items to help kids enjoy happier & healthier lives
4. Share your story with Champions for kids to inspire others
Here at Thrifty NW Mom, Sia & I love to share ways that families can give back within our own communities – even better when we can teach our kids to serve kids in need. Not only are they helping those kids & families but it is teaching our kids those important lifelong lessons about doing for others.
My family had the opportunity to team with Champions for Kids to buy some frozen food items to donate to one of our local food banks to help with the need for more donations for summertime. Typically, we think of mainly just donating non-perishable items, but if you call ahead to make sure your food bank will accept it, frozen food can be a great option. If it's a food bank where the families can come & "shop" for the items they will use, this gives them more variety of what they can feed their families. If you're donating at a shelter or location which serves daily meals to people, they can always use the protein, veggies & more.

One easy way you can get involved in helping kids in need this summer is to head to Walmart & purchase Tyson, Birds Eye or State Fair frozen food products. Each time you make a purchase from one of these 3 sponsors, you will be  helping to feed needy kids in your community. This is going on through July 9, 2014. Check out Champions for Kids for more details!
We headed to Walmart to pick up our frozen food items we were going to donate to a local food bank.  I had called FISH Food Banks of Pierce County to ask if they would accept a frozen food donation & they said yes! I found out that they could really use the protein items like chicken as well as the veggies to provide more of a balanced meal, so that's exactly what we bought – and lots of it!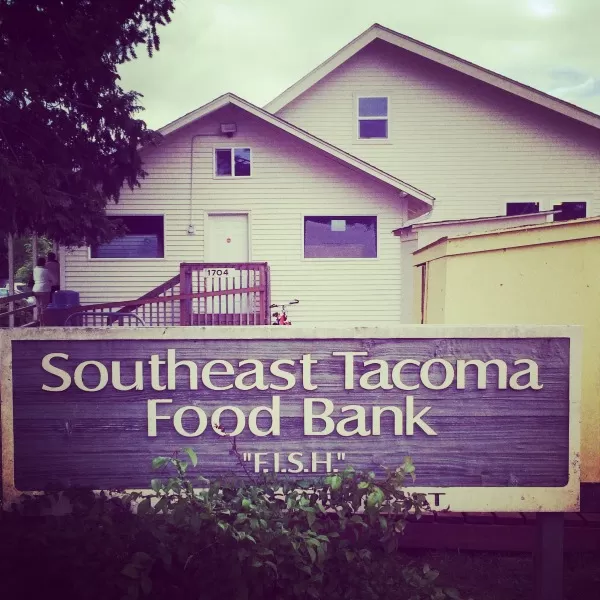 Once we bought our food to donate, we headed out to the southeast Tacoma Fish Food Bank. There are 7 FISH food bank locations around Pierce County and 1 mobile food bank. The way their system works is that they try to provide a nutritionally balanced food supply for the people who come & it is a self-serve model, so that families can pick out the food that they will use the most. One of the greatest needs for food banks right now is  peanut butter – they get really low on peanut butter in the summer, so it's a great item to buy  for food banks! We can often find some great deals on peanut butter by shopping the sales & combining coupons, so definitely keep your eye out for sales!
Enter to win $25,000 for your school::
Donating food is just one of the ways you can do a SIMPLE service project with your kids. Head to Champions for Kids to see the wide variety of ways kids are getting involved in helping other kids & come up with your own, unique idea for your family.
If you participate in a service project together, you can enter to win 1 of 3 $25,000 awards to be given to the school of your choice! Just fill out a quick form sharing what you did for your service project.
Here are a few of the ways we've shared how to get your kids involved in giving for inspiration:
And here's a list of Northwest food banks for a resource for you. If you are local in the Pierce County area, the One Another Foundation is an amazing resource where their primary goal is to connect people in the community with organizations that need their help!
We'd love to hear if you get inspired to do a giving project with your kids & how it goes! Share a creative way to give too! 
We participated in this program on behalf of Champions for Kids and the Motherhood. All opinions are our own.