Healthy Essentials Summer Products – Get $45 in Coupons! #Moms4JNJConsumer
This post may contain affiliate links and I may be compensated for this post. Please read our disclosure policy here.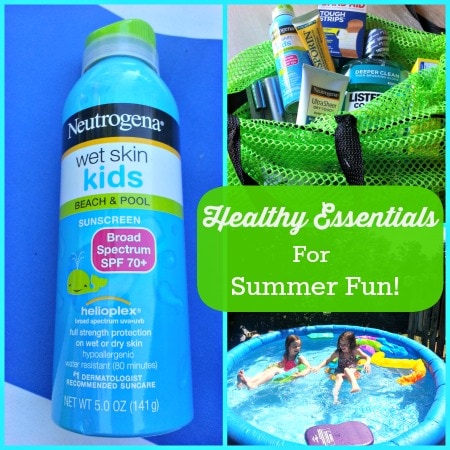 HEALTHY ESSENTIALS® Products are essential for summertime – and can help keep your family healthy and happy while you enjoy the season!
I don't know about your family, but my family seems to go through more band-aids in the summer then any other time of the year. Healthy Essentials sent us a goody bag to try out, and just in time. Full of summer essentials, the bag included Band-Aids and Neosporin. Of course, days after receiving the kit my husband dropped a very heavy item on his toe, and was I so thankful I had those items to grab and patch him up with. It was a stressful situation, and would have been much worse if I had not had some of these needed items on hand.
Another item I consider essential around our house is Benadryl. With Bees buzzing around and kids with multiple allergies, I do not go through this season without keeping Benadryl on hand at all times (a box in the car, in the house, and with the kids when they travel). It has been a necessity for  keeping our summers healthy since my kids have been young.
The kit also included spray sunscreen, which has come in so handy now that the sun has started to show up around here! It is really easy to spray on quickly for last minute outings, and I cannot imagine facing hot summer days with the kids without this stuff now! PLUS, this Sunscreen is specially formulated to apply to the kids skin after its wet too. I love this stuff! Mostly because I am forgetful, and let the kids jump in the pool without sunscreen too often (I know, probably not winning mom of the year award this year). This stuff has come in so handy for me, as its not too late to catch myself once the kids are in the pool.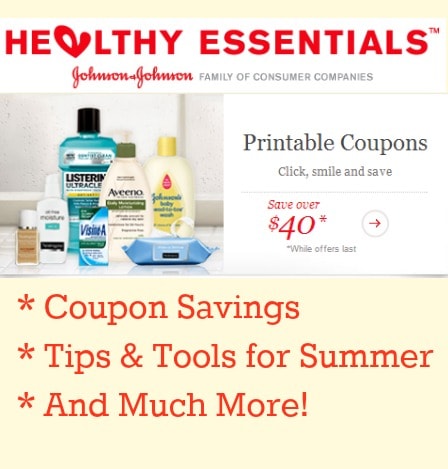 The HEALTHY ESSENTIALS® program is offering amazing printable coupons, tips & tools and so much more for all the products you and your family love. You can save more than $45 by visiting https://www.HealthyEssentials.com in July and signing up for HEALTHY ESSENTIALS® program coupons and offers.
Great Deals for July:
These are just a few of the great coupons you can score on HealthyEssentials.com this summer for more than $45 in savings:
Save $1.00 on any (1) NEUTROGENA® Sun product (excludes trial size)

Save $2.00 on any (3) NEOSPORIN®, NEOSPORIN® ESSENTIALS, BAND-AID® Brand Adhesive bandages, BENADRYL® Topical or JOHNSON and JOHNSON RED CROSS® Brand products (excludes all trial and travel sizes, First Aid Kits, 10 ct Band-Aid Brand Adhesive Bandages, and On-the-Go First Aid Kits). Must buy (2) different brand products to qualify for this offer along with a third product

Save $1.00 on any (1) SPLENDA® No Calorie Sweetener Product

Save $1.00 on any (1) LISTERINE® SMART RINSE Anti-cavity Mouthwash, 500 ml

Save $1.00 on any LUBRIDERM® product

Save $1.00 on any (1) CLEAN & CLEAR® product (excludes trial and travel sizes)

Save $1.00 on any (1) REACH® Total Care Floss, or REACH® Gentle Gum Care Floss, or REACH® Dentotape® or REACH® Access® Flosser

Save $3.00 on any (1) REMBRANDT® Whitening Kit or Strip or any (2) REMBRANDT® Whitening Paste or Rinse

Save $1.00 on any (1) VISINE® product, 5 oz. or larger
Look and Feel Your Best This Summer
Vacation plans are set, but are you ready for summer? Make sure you're prepared with all the essentials you'll need, so you and your family can enjoy the great outdoors and a great vacation. Be proactive about protecting your skin!

Summer is the best time to sport a healthy glow and make small changes to look and feel your best. You're in charge of your health and beauty, so make this season all about healthy skin, hair and the essentials you and your family need in the heart of the summer.
This post is part of the HEALTHY ESSENTIALS® 2014 program by Johnson & Johnson Consumer Companies, Inc. and The Motherhood, who sent me a box of products and compensated me for my time. Opinions, experiences and photos shared here are all my own, and I hope you enjoy them.