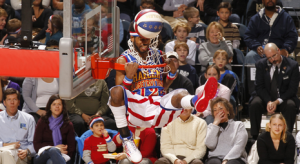 Harlem Globetrotters Tickets
*Just a reminder that there are tickets still available through Goldstar and Groupon is also now offering discounted Globetrotter tickets!
***********
The Harlem Globetrotters will be in the Pacific Northwest in February. We found tickets through Goldstar at a discount! Right now you can get tickets for as low as $26.00 each. These are half  off the regular price! They have 3 different locations and dates in February in the greater Seattle area, and one in Portland.
I compared these prices to Groupon, where they also have discount tickets to the Seattle Harlem Globetrotter shows and their prices run from $32 – $55, however, I don't know what the seat differences would be (the Groupon tickets do show you what sections are available to sit).
The show-stopping dunks, amazing ball-handling skills and hilarious antics that made the Harlem Globetrotters legends just got even more fun. This year, the fans get to vote online to determine which wacky new rules and challenges the Globetrotters will play by, from adding players by scoring baskets to playing with two balls at the same time.
Greater Seattle Area Available Dates & Locations:
Harlem Globetrotters: Fans Make the Rules — Amazing & Hilarious Events – Everett
Sunday, February 16, 2014 at 2:00 pm. at the Comcast Arena in Everett, WA
Prices: $26.00 – $46.00
Harlem Globetrotters: Fans Make the Rules on Their 2014 World Tour – Seattle
Monday, February 17, 2014 at 2:00 pm at the Key Arena in Seattle, WA
Prices: $31.00 – $45.00
Harlem Globetrotters: Fans Make the Rules — Amazing & Hilarious Events – Kent
Saturday February 15, 2014 at 2:00 pm at the ShoWare Center in Kent, WA
Saturday February 15, 2014 at 7:00 pm at the ShoWare Center in Kent, WA
Prices: $31.00 – $46.00
Portland Area Available Dates & Locations:
Harlem Globetrotters: Fans Make the Rules on Their 2014 World Tour – Portland
Saturday February 22, 2014 at 2:00 pm at the Rose Quarter Moda Center in Portland, OR
Saturday February 22, 2014 at 7:00 pm at the Rose Quarter Moda Center in Portland, OR
Prices: $26.00 – $44.00