Harlem Globetrotters in Seattle, Portland & more – Family 4 Pack of Tickets Giveaway!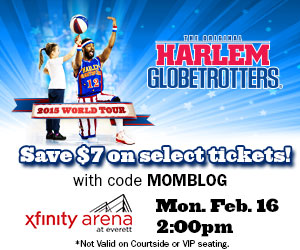 Harlem Globetrotters in Seattle, Portland and more! 
The Harlem Globetrotters are headed back to the Northwest this February and we have found a discount ticket option for you! We also have teamed up with the XFINITY Arena in Everett to give away a family 4 pack of tickets to see the show in Everett.
I saw the Harlem Globetrotters when I was a kid and even though I was someone who wasn't really a fan of basketball, I loved the Globetrotters as they were so entertaining and just kept you laughing the whole time!  And that was a long time ago, so I can only imagine how cool their shows are now!
 More information about the Performance:
The iconic Harlem Globetrotters are coming to town with their unrivaled family show, featuring some of the greatest athletes on the planet. With incredible ball handling wizardry, amazing rim-rattling dunks and trick shots, side-splitting comedy and unequaled on-court fan interaction, this must-see event is guaranteed to entertain the whole family – creating memories that will last a lifetime.
The Globetrotters will face a great challenge this year, as the infamous Washington Generals are more determined than ever to beat the Globetrotters.  The Generals, the last team to beat the Globetrotters, are now coached by a former member of that 1971 team.  They are on a mission and will do whatever it takes to win, with a new strategy that's sure to give the Globetrotters a run for their money.
Dates of the Shows in the Northwest:
Saturday February 14th – 2pm & 7pm – Showare Center in Kent, WA
Sunday February 15th 2pm – Key Arena, Seattle, WA
Monday February 16th 2pm – XFINITY Arena in Everett, WA (formerly Comcast Arena)
Tuesday February 17th 7pm – Spokane Arena, Spokane, WA
Friday February 20th 7pm – Matthew Knight Arena, Eugene, WA
Saturday February 21st 2pm & 7pm – Moda Center, Portland, OR
$7 Off Seats in Everett:
If you are wanting to get discount tickets to see the performance, you can use the coupon code: MOMBLOG to get $7 off tickets at the XFINITY Arena in Everett. This offer is valid on the $25, $30, $37, and $47 regularly priced seats. This offer is valid online only.  This coupon code may also work at other locations, but we were given this code by the Everett location.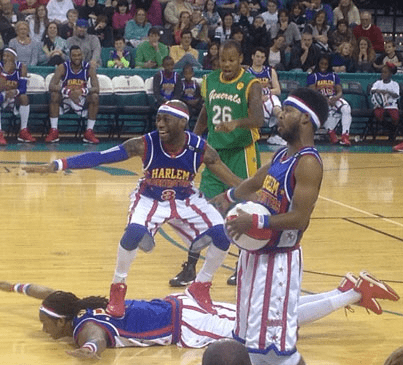 Giveaway – Family 4 Pack of Tickets to Harlem Globetrotters
in Everett Monday February 16th 
We are excited to team with the XFINITY Arena in Everett to provide a family four pack of tickets to the Harlem Globetrotters performance on Monday February 16th at 2pm.
This giveaway will end on Tuesday, February 10th at 9pm pst.
The winner will be drawn using "And the Winner Is" plugin and announced on the blog.  We will also email the winners. The winners will have 24 hours to contact us, otherwise a new winner will be drawn. US residents only & you must be 18 yrs or older to enter the giveaway. This giveaway is not affiliated with Facebook in any way.
Here's how to enter this giveaway::
(make sure these are all separate comments, with a comment for each entry –
you could have a total of 6 entries into the giveaway)
1st Entry (required entry):
Leave a comment letting us know why you want to see the Harlem Globetrotters!
Extra Entries : 
2) Share this giveaway using one of the share buttons at the bottom of the post. Leave a comment to let us know how you shared – Facebook, Twitter,  email, word of mouth, in a Facebook group, Pinterest,  you name it!
3) Subscribe to the Thrifty NW Mom email newsletter – we have several different options of email newsletters – you can get all the daily deals every day in the late afternoon or you can get the deals as they come throughout the day if you don't want to miss a deal. We also have a special Northwest newsletter.
4) Leave a comment here saying you "like" the Thrifty NW Mom Facebook page (on this post – not on Facebook! ) If you already like the TNWM Facebook page, then like the post sharing about the giveaway!
6) Follow us on Instagram – you can follow Sia HERE and Jen HERE
Disclosure: This giveaway was provided by the XFINITY Arena in Everett for a family 4 pack of tickets to be given to a winner randomly chosen. We did not receive any compensation for this giveaway. All opinions are 100% ours. See our disclosure policy  for more details.