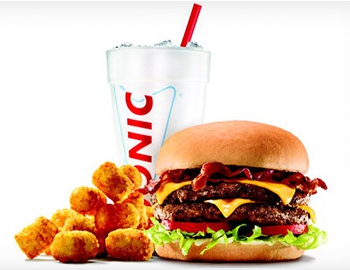 If you are in the area of Bonney Lake, South Hill or Tacoma and love Sonic, you may want to take advantage of this offer! Right now on Groupon, you can get $10 worth of food and drinks at Sonic for ONLY $5 (Valid only at Bonney Lake, South Hill and Tacoma Locations)! That's a savings of 50%!
Originally opened as the Top Hat Drive-In in 1953, Sonic has grown into a burger-franchise mecca that today operates out of 3,500 locations across the country, making it the nation's largest chain of drive-in restaurants. Sonic specializes in made-to-order American classics—including burgers, hot dogs, milk shakes, and marshmallow Ford Thunderbolts—which customers order and receive without ever having to leave their cars. Unique menu items include toaster sandwiches stacked on thick slices of texas toast, as well as the brand's signature tots and fresh limeades.
Here's how the deal works:
Fine Print:
Expires Oct 4, 2013
Limit 3 per person. Limit 1 per visit.
See the rules that apply to all deals.
Whole $10 voucher must be used in one visit.
No cash back.
Sonic is offering Half Priced Shakes after 8 pm!
This groupon would pair perfectly for a late night treat! You may need to bring a few friends with you to use the whole $10 credit.