Flash Sale for Boneless, Skinless Chicken Breast
Zaycon Fresh has an awesome meat sale going on right now and it's a great way to get your meats at very affordable prices. They are well known for having great prices on boneless skinless chicken breasts, ground beef & ground turkey, bacon and more.
This is an amazing chicken offer available to new customers  – just $.99/lb for chicken breast!! Use the promo code: firstcase  to drop the price from $1.89/lb to $.99/lb.
This is a special, limited time offer that is only available a few times a year! If you have never tried Zaycon Fresh before, you will want to jump on this as this is the best deal you will ever find for boneless, skinless chicken breasts!
Zaycon Fresh boneless, skinless chicken breasts are 100% natural with no added hormones, additives or artificial ingredients.
New Customers:
Boneless Skinless Chicken Breasts – $.99/lb for a 40 lb box – use coupon code: " 
firstcase "
 at checkout (reg $1.89/lb) – This is for new customers only 
This sale is only available thru Thursday May 10, 2018 at 11:59pm pst!! The $.99/lb price is for late summer delivery dates and only one person per household can sign up for an account.
Current Customers:
If you are a
current member of Zaycon
already (meaning you have already bought meat from Zaycon Fresh in the past) – good news as Zaycon also has a special coupon codes available for you, too! Here's the offer::
Buy 1 case of boneless skinless chicken breast – pay $1.49/lb (reg $1.89/lb) – use coupon code: ONECASE 
Buy 2 or more cases of chicken breast – pay $1.39/lb – use coupon code: 2ORMORE 
These coupon codes are valid through Friday May 11, 2018. They are valid on orders for chicken breast deliveries between 9/6 & 10/8/18.
How Zaycon Works:
The chicken breasts come in 4 large bags  (10 lbs per bag with fresh chicken) for 40 lb boxes & then you need to repackage it into smaller, manageable bags for your family.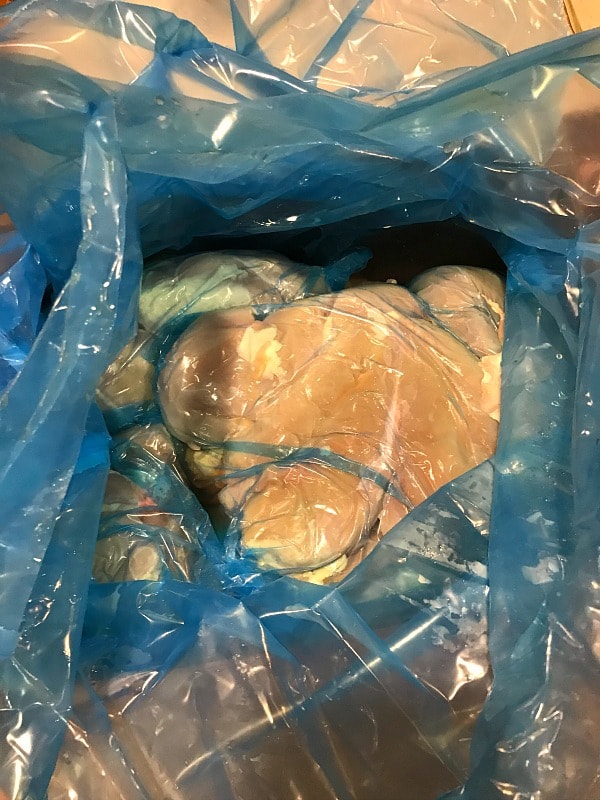 I use my Foodsaver to help repackage the chicken (I put about 4-6 breasts in each bag for our family of 4, so we can have some leftovers),  so there is no freezer burn & they can last quite awhile that way.
We love to pull out a bag of chicken breasts for dinner, let it thaw or just dump it in the crockpot right away. Makes for frugal, quick & easy dinners!
Background on Zaycon Fresh:
If you're new to Zaycon Fresh, they are a Pacific Northwest company based out of Eastern Washington, which offers significant discounts on fresh meats, seafood, fruit & vegetables & more by selling it in bulk! This is the only way that we have been buying our chicken for a number of years by buying in bulk – in my mind, the quality, freshness & taste can't be beat! This sale only comes around about 2 or maybe 3 times a year – they offered it in the fall & they are offering it this spring, so it most likely won't be back again until at least the summer, so make sure you stock up!
Zaycon Fresh has now expanded to 48 states, so if you're not in the Northwest, make sure to sign up for an account & select your area, so that you will  be notified by email when they have new shipments coming to your area.
Locations:
Make sure to check the Zaycon Fresh website to find out the times & locations for when the sale will be in your area. You need to pre-order the meat & it often sells out at least a few weeks, if not a month before, the delivery date.
Save
Save
Save
Save
Save