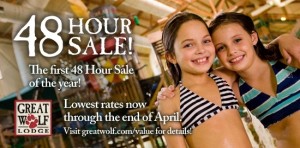 Great Wolf Lodge has one of their biggest sales of the year going on right now on their website.  All you need to do is head over to Great Wolf Lodge's website & use the promo code: 48HOUR to receive the lower rates.  Rates start as low as $169.99/night for a family suite (with waterpark passes included for a family of 4).  The $169 rate is for weekdays while it is $199.99 & up for weekend rates.  They have dates available thru April.
This 48 hour sale is only available for 48 hours & will end on Thursday January 20th at 11am pst for the Grand Mound location. If you're in a different area of the country, the sale may start at a different time for your Great Wolf Lodge location.
Make sure you sign up now for Great Wolf Lodge's email newsletter, the E-Pack – once you're signed up for their newsletter, you will receive information about future sales & typically you  can book your rooms a day early using the special promo code just for email subscribers.
I have to say that I always thought Great Wolf Lodge was a fairly expensive option for lodging, especially for a frugal family. However, when you consider that you are getting full day passes to the indoor waterpark for a family of four with your lodging, it does work out to be a great deal if you use it to your full advantage.  We had the opportunity to head to Great Wolf Lodge back in October for the NW Blogger Event & it opened my eye to the ways that you could keep your costs down & save money even while staying at Great Wolf Lodge (as well as ways that people could really spend above & beyond what they budgeted for the vacation as well) – it just requires careful planning.
Here are a few ways you can save money on a Great Wolf Lodge vacation:
Book your stay during the week – Not only will you have lower prices by booking during the weekday (non-vacation time) versus the weekend ($169 versus $199-$269), you will also have a much more enjoyable time with fewer people in the water park. We happened to go on one of the busiest weekends in the fall (during their Howl-o-ween event) & I have to say that I would definitely look at booking during the week after that busy weekend.  Whew! You'd have more time to enjoy the park with shorter lines in the park. And I think you'd enjoy the rest of the activities around the lodge with fewer people as well.
Use the waterpark to the full advantage – Even if you're staying for just one night, you can really get full use of the waterpark for 2 days. Great Wolf Lodge allows you to come & use the waterpark early (before your checkout time) & then you can stay the whole day after you check-out in the morning.  I checked out the prices for our local waterpark, Wild Waves, which is $39.99/day for adults & kids are $29.99/day (that's $140/day just  for the water park passes to Wild Waves).  Comparing those prices to Great Wolf Lodge at these lower sale prices, it is definitely an affordable family vacation option which includes lodging & waterpark fun.
Bring your own food – While you're not allowed to have your own food in the waterpark, you can bring your own food into your hotel room. The suites do include a mini-fridge & microwave as well as a table where you can eat.  This can definitely save money by bringing breakfast & lunch items, snack items, etc.
Order take-out pizza from the restaurant – We found a great option for saving money on dinner was to order the take-out pizza from the pizza place at GWL.  A large pizza that fed our family of four was around $15 & we were able to bring it into the lobby & watch all the happenings while enjoying our pizza.
I have to say that we really enjoyed our stay at Great Wolf Lodge & I would highly recommend the experience. We were very impressed with the friendliness & attention to detail by all of the staff at the lodge.  For our blogging event, we also had a chance to experience their Conference Center facilities.  The service by the conference staff was outstanding  & the food was delicious.  If you're looking for a place for a conference, wedding reception, or other large event, this is definitely a place you should consider in your planning.