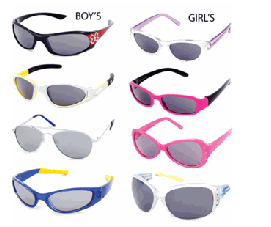 Graveyard Mall has a daily deal available today for 6 pairs of children's sunglasses (in boys or girls styles) for just $11.99 + FREE shipping. That works out to just $2 a pair shipped. You will get an assortment of sunglasses in different styles & colors. It may take 6-10 business days to ship, so if you need them right away, then this wouldn't be the deal for you.
Just knowing how fast we go thru sunglasses in our house (they either get broke quickly or lost), this sounds like a very good idea to have extras on hand for those summer days!
 *This deal ends tonight, so make sure to order soon!