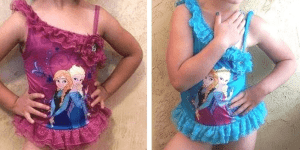 Girls' Frozen Bathing Suits
If you have a frozen fan in your household, you're going to want to check out this Girls' Frozen Bathing Suits deal! We found these cute Anna and Elsa Frozen Bathing Suits at Jane.com for only $19.99. Shipping is $3.50 for the first item and only $2.50 for each additional item. These are regularly priced at $45.00, making this more than half off!
Hurry, there are only a few more days before this sale is over!
More About these Suits:
This is a adorable Frozen Elsa and Anna swimsuit! Features the 2 sisters and this 1 piece swimsuit is adorned in soft lace ruffles with a  gorgeous vintage rhinestone button. The strap has also been jeweled