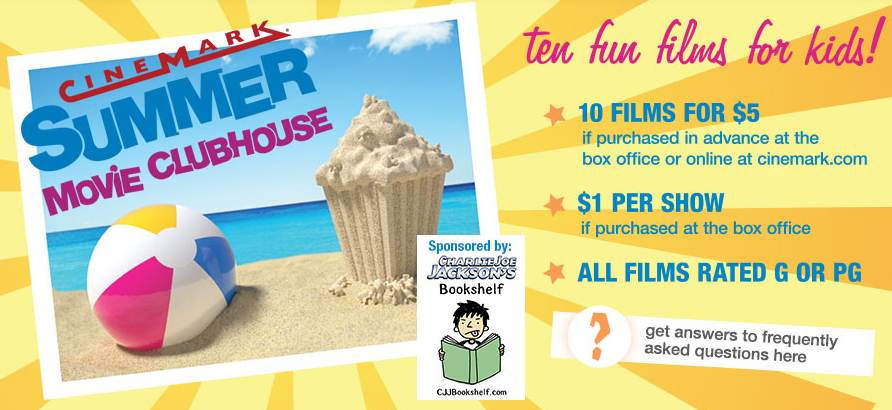 Summer is right around the corner! And that means frugal summer movie programs are available to participate in. Kid's Summer Movies show popular G or PG rated movies that your kids will love. We found two that will keep your kids entertained. The first is for CineMark Summer Movie Clubhouse. You can get 10 Films for $5 (if purchased in advance), or show up at participating theaters for $1.00.  The second is for Regal Summer Movie Express. You can see Kid's movies at participating Regal theaters for only $1.00 a ticket. I love frugal deals like these!
There are two participating theaters in WA state (Olympia and Federal Way). To find a theater near you, click on CineMark Summer Movie Clubhouse. Choose your state, and the closest city to you. Each movie costs $1.00 per person. Or you can purchase the 10 films for $5 Movie Pass (purchased at box office, or online at CineMark.com.
Here's a preview of the schedule (Each location has different movie dates and times, this is for Federal Way, WA location).  
June 19th – Horton Hears a Who (G)
June 26th – The Smurfs (PG)
July 3rd – Ice Age: Continental Drift (PG)
July 10th – Dolphin Tale (PG)
July 17th – Happy Feet (PG)
July 24th – Oceans (G)
July 31st – Rio (G)
August 7th – Chimpanzee (G)
August 14th – Alvin & The Chipmunks (PG)
August 21st – African Cats (G)
There are quite a few participating locations in WA state for Regal's Summer Movie Express. Each location will host the Summer Movie Express on Tuesdays & Wednesdays at 10am for nine weeks. Admission is $1 and a portion of the proceeds will benefit the Will Rogers Institute. Start dates depend on your selected city. Here in the northwest, it looks like they start around mid June.
Here is the movie schedule:
1. The Three Stooges (PG)
1. Ice Age – Continental Drift (PG)
2. Diary of a Wimpy Kid – Dog Days (PG)
2. Parental Guidance (PG)
3. Mr. Poppers' Penguins (PG)
3. Alvin & The Chipmunks – Chipwrecked (G)
4. Monte Carlo  (PG)
4. Rio (G)
5. Coraline (PG)
5. ParaNorman (PG)
6. Dr. Suess' The Lorax (PG)
6. Big Miracle (PG)
7. Yogi Bear (PG)
7. Journey 2: The Mysterious Island (PG)
8. Racing Stripes (PG)
8. Happy FEET Two (PG)
9. African Cats (G)
9. Chimpanzee (G)
Check out these other Summer Frugal Fun Ideas –