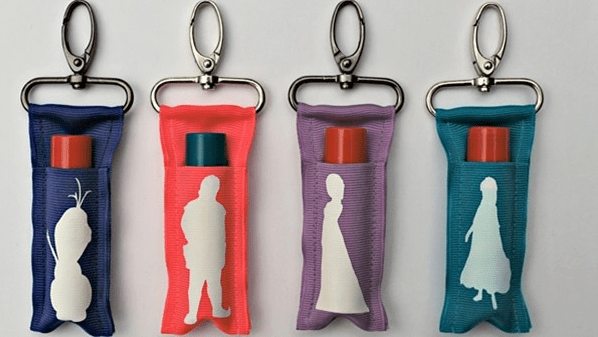 Frozen Inspired Lip Balm Holders – $5.99
If you're looking for unique gift ideas for a little Frozen fan, this is a cute idea for a little girl. Check out these Frozen Inspired Lip Balm holders for $5.99.  Every little girl I know is obsessed with lip balm and combine that with Frozen & you've got a winning combination for a gift.   Shipping is $2.25 for the first item & free for the additional items, so if you buy several of these to have on hand for a gift, that would be your best idea to save.
Here's more info about the lip balm holders:
These are a high-quality, handmade in the USA items
Never lose your lip balm again!  Clips on to your keyring, backpack, purse, beltloop, diaper bag – anywhere you choose!  Securely holds your lip balm and keeps it easily accessible to you – it won't fall out!
Standard size CYLINDRICAL Chapstick, Burt's Bees, Blistex or Carmex brand will fit snugly in this key fob.
This listing is ONLY for 0.15 oz CYLINDRICAL standard size lip balms.  Skinny Burt's Bees and SoftLips, as well as the "squeeze tube" Carmex will NOT fit in these and she cannot accommodate special requests at this time.
Please note that lip balm is NOT INCLUDED.
Finished product measures approximately 5 inches long, including silver clasp.
Find more Disney Frozen Deals we've shared.