Free Tacoma Summer Camp for Students in August

Free Tacoma Summer Camp for Students 
Summer break is quickly approaching, just a few week away out here in the NW, and I know my kids are getting excited for a break from the busy school year! I'm sure many of you are busy trying to figure out plans for your summer & we heard about a cool opportunity for tweens/teens, so wanted to pass it along as it can be harder to find opportunities for older kids if you are looking for budget-friendly summer camp options.
This summer, Tower Bridge International, a company that offers Exchange Programs for students in the South Sound area, is hosting several cultural exchange summer camps in Tacoma. These summer camps will be with students from the South Sound, as well as with students who are here as exchange students for several weeks from China. It's an opportunity to participate in fun classes & activities with these students & build relationships as they each learn about each other's cultures. As I mentioned this fall, we have participated in the Exchange Program with Tower Bridge multiple times the last 2 years & have had wonderful opportunities. And they do still have opportunities for hosting exchange students this summer available as well if you live in Tacoma or surrounding areas – you can see what our experience was like!
The summer camp session lasts 2 weeks, Monday – Friday. There are a few optional field trips around the greater Seattle area that could be included for a small fee as well.
This camp is totally free and it includes a daily, catered hot lunch on camp days, camp activities & a camp t-shirt.  There are only limited spots, so make sure to check it out soon if you are interested!
We have all of the details below if you are interested in this opportunity for your kids this summer and you can find out more details on the Tower Bridge website!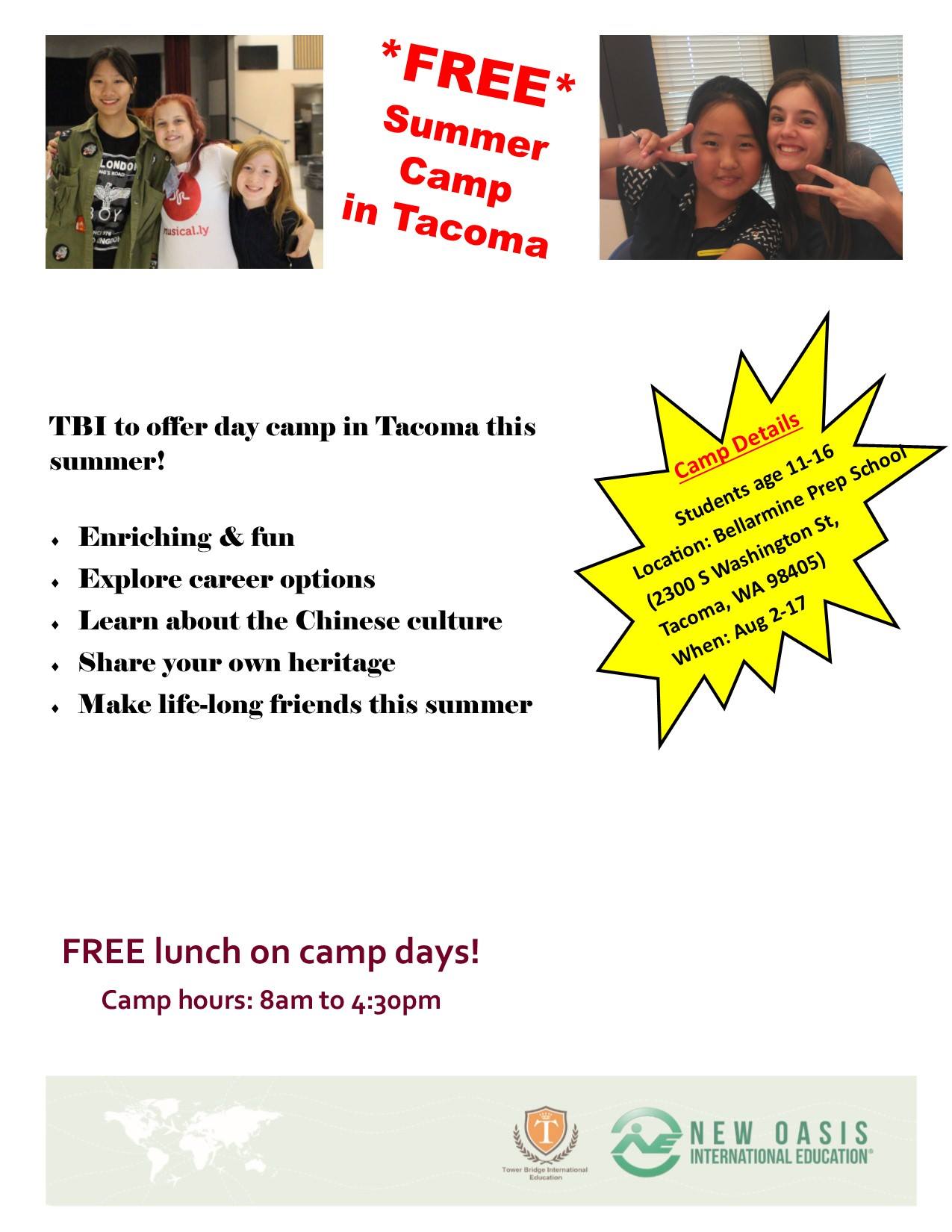 Camp Session: 8/2 – 8/17
Who: Students ages 11 – 16
When: Monday – Friday, 8am – 4:30pm
Where: Bellarmine High School in Tacoma
Cost: Free! This includes a daily catered hot lunch on camp days, all the activities at the camp for 2 weeks & camp t-shirt. There are optional field trips as well that students can go on for a nominal fee.
Purpose of Camp:
Make friends and learn Chinese crafts, culture and language from students from China.
Share the American culture with them.
Learn with the Exchange Students through research, speakers and tours how cultural understanding and education is key to success of Washington's International businesses.
*Daily hot lunch not included on field trip days.
If you have questions about this summer camp, call Joanne at (800) 260-2105 to answer your questions or contact them on the Tower Bridge Facebook page.