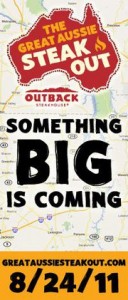 Update #3: According to the text I received at 6pm, this is going live at different times for different time zones. For those of us on the West Coast, this will go live at 9pm. So check back on the site I listed below at 9pm pst! So many changes – whew, it's been a confusing promo!
Update #2: I think Outback is having issues with their posts as the countdown is showing different things for different people. I'm getting ready to head out shopping, so if it doesn't update at 3pm, then make sure to check back at 6pm. I say it's better to be safe than sorry, right?
Update: This is at 3pm pst, not 6pm like we originally noted – sorry about the confusion folks!!
Outback Steakhouse is announcing something big later today (August 24th). The rumor is that it's a FREE Steak Dinner (available to the first 1,000,000)! Be sure to log on to their Facebook page on Today at 3 pm pst to try for your free dinner!
Also, you can text "OUTBACK" to 27438 to receive a text message when it is time! I think this is what we'll do, just to make sure we don't miss it!
(Thanks Centsible in Seattle!)