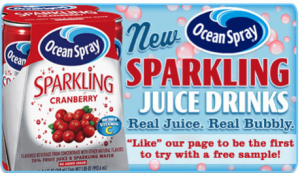 Update #2: It's back again!! Hurry! (Sat 9:20 am pst)
Update: The free samples are now gone!
Hurry & head over to the Ocean Spray Facebook page.  Click on the "Free Samples" tab & you'll be able to request a free sample of their Sparkling Juice (diet or regular). I'm not sure how many samples are available, so you'll want to do this quickly.