Free Play Program at Rainbow Play Systems for locals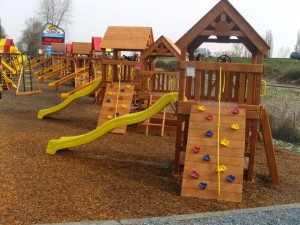 Today is back to one of those dreary, mid-winter days, however I've been amazed that we have actually had a number of beautiful sunny days out here in the NW this winter. {It's been a very mild winter…especially compared to all of you who live in the Midwest or East Coast, being hit with all the crazy snow! }
Since we've had such nice weather off & on this winter, this is the perfect option for a new play area for your children, and it's totally FREE! Rainbow Play Systems are offering up their indoor & outdoor showroom in 2 western Washington locations for FREE play for children.
I don't know about you, but I am always looking for new places to take my kiddos, especially in the wintertime, where I can let them run & get all that energy out! However, it seems the only options are mall play areas (which can get packed!) or pricey indoor play areas.
So, I was very excited to hear about this new Free Play program from Rainbow Playsystems.  Basically it's a chance for your children to play on all their AMAZING playsystems that they have on display!  They have a total of 5 indoor & 20 outdoor playsystems (between the two locations) for the kids to play on.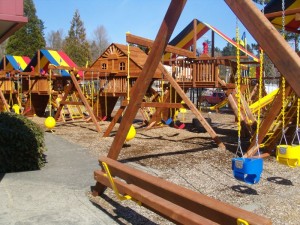 Here are all the details:
They have 2 locations – one in Kirkland & one in Algona/Auburn (off Hwy 167). The Algona location is larger with more playsystems but it is all outdoor, while the Kirkland location is both indoor & outdoor
Free play is from 10:30 – 12pm on Tuesday, Wednesday & Thursdays
You must call to make an appointment for Free Play so their staff will know to expect people. They do stay open for retail customers during the Open Play time
There must be one adult for every 4 children; they will have a registration/waiver form for you to fill out
No food or drink & no birthday parties
You can find out all about this program by calling the individual Rainbow Play Systems location:
Rainbow Algona – 253-931-5129
Rainbow Kirkland – 425-821-8779
I can't wait to check this out – we had actually planned to go with our playgroup a few weeks ago, but the weather turned cold & foggy on the day we were to go, so we're waiting for some sunny skies again on our playgroup day to check out the outdoor Algona location.
Update: I had a few questions regarding whether there would be a 'sales pitch' involved if you attended the free play program. I did call to confirm this for sure with one of the managers, but there is definitely not a sales pitch involved.  This is just a free opportunity for you to take your kids to -and of course, at the same time, you & your kids are getting a chance to check out Rainbow's playsystems, which is the benefit for them.