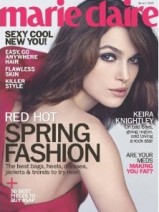 Get a free one year magazine subscription to
Marie Claire
right now possibly, through Mercury Magazines. Your responses will determine the magazines that you are offered.
To get your free subscription (and find out what magazines are available to you):
Head to the free subscription offer here, and provide your info. Your profile will determine the magazines presented to you.
Complete subscription forms. Your answers will be used to determine if you qualify.
Specify delivery information
Thanks Free Stuff Times!