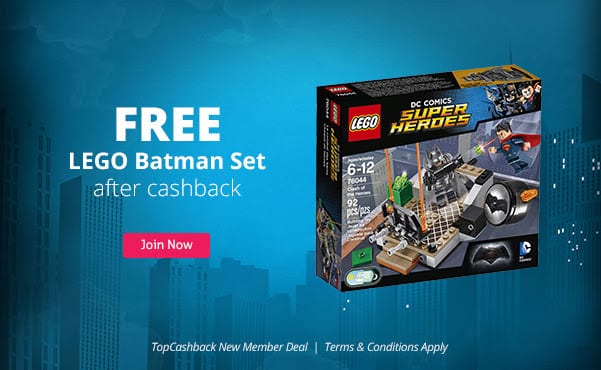 Have you signed up for any Top Cashback Offer yet? Right now they have a great offer going. You can get a FREE Lego Batman set after cashback rebate! This deal is only available today only, 9/28, (or until it sells out, which often happens first). This might be a great offer to grab and put away for Christmas.
To save even more, free in-store pick-up is available.
Please note only NEW TopCashback members are eligible for this promotion; existing members are welcome to introduce friends and family to TopCashback and ask them to order and share the freebie with you. 
How It Works:
Visit Walmart through TopCashback, purchase a LEGO Super Heroes Clash of the Heroes for $11.44 and

within fourteen days

$11.44 cashback will post in your TopCashback account.
Within 21 days the money will be payable and can be credited straight to your checking or PayPal account. Or Amazon gift card
Who qualifies for it?
This offer is available to new TopCashback members only. However, as TopCashback doesn't limit accounts to one per household, if you're an existing member now's the perfect time to tell your husband or wife, mom or dad, roommate, neighbor or anyone else about TopCashback and perhaps they'll share their freebie with you.

Is there anything else important to know?
Transactions must contain at least one LEGO Super Heroes Clash of the Heroes from Walmart priced at $11.44 to ensure $11.44 cashback is credited to TopCashback accounts.
Available while the product's price is $11.44 – subject to supplies and pick-up availability
Applicable for online sales only for purchases made directly after clicking through TopCashback.com
Only one LEGO Super Heroes Clash of the Heroes per TopCashback account
The deal is open until 23:59 PST on Thursday September 28th
Offer available to new TopCashBack members ONLY
Please check out our Terms and Conditions for any other information