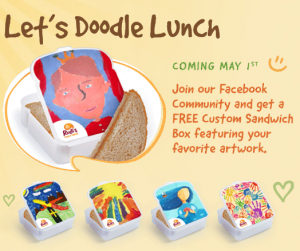 On May 1st Rudi's Organic Bakery will be offering these cute custom Sandwich Boxes that you make from uploading your own artwork.
Your artwork will also be entered into the Rudi's Sandwich Box Contest Gallery. The masterpiece that gets the most fan votes starting July 1 will become the Official Rudi's Sandwich Box.
You can sign up to get a reminder sent to you once this promotion goes live. Hardest part about this promotion will be to decide what artwork to use.