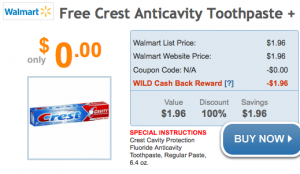 Shop at Home has an awesome WILD deal today (these are the deals of the day featured by Shop at Home that only last for 1 day & often are gone very quickly in the morning). Today they are offering a FREE Crest Cavity Protection Fluoride Anticavity Toothpaste, (Regular Paste, 6.4 oz. ) after cash-back + you will get FREE shipping to your house from Walmart.com.  The way it works is that you will pay $1.96 for the Crest toothpaste at Walmart.com & then you will get $1.96 cash back from Shop at Home in your account usually within a week – 10 days (but possibly as long as 30 days). If you're new to Shop at Home, you'll get a bonus $5 in your account.
Here's how the deal works:
Head on over to this page on Shop at Home and log in or create an account
Click on the Wild Deal for the Free Crest Toothpaste  from Walmart
Click "Buy Now"
Add to your cart and checkout
You will pay $1.96 shipped from Walmart.com and within 30 days you will get $1.96 credited to your Shop at Home account for this special Wild Deal. (Once your account reaches a balance of $20 they will send you a check in the mail).
Limit one WILD product per household/shipping address.