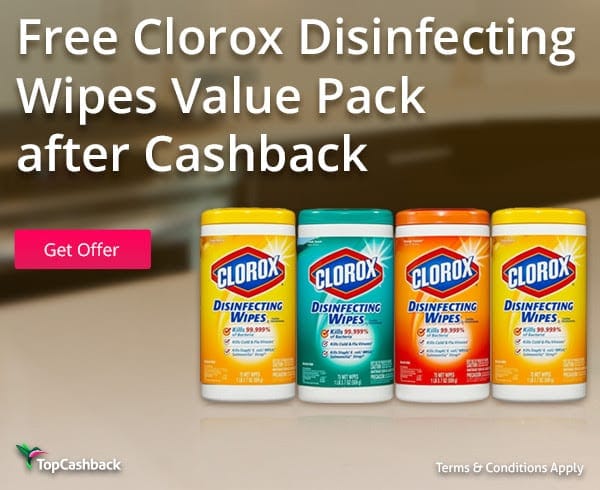 Top Cashback Offer: FREE $10 Cash Back on Clorox Disinfecting Wipes!
Have you signed up for any Top Cashback Offer yet? Right now they have a great offer going. You can get $10 cash back if you purchase this 4 pack of Clorox Disinfecting Wipes! This deal is only available through 4/23 (or until it sells out, which often happens first).
Visit Walmart through TopCashback, purchase one Clorox Disinfecting Wipes Value Pack, Citrus Blend, Fresh Scent and Orange Fusion, 300 Count priced at $10.98 and as many other items as you'd like and within seven days $10.98 cash back will post in your TopCashback account.
To save even more, free in-store pick-up is available at one of Walmart's many locations. The $10.98 will cover the cost of the package, leaving you to cover only the few cents any sales tax may incur, effectively making the household essential a perfect cheapie. Also, right now add as many things as you'd like to your cart and check out! Consider this a great $10.98 off coupon.
Clean and disinfect multi surfaces in one easy step. This value pack includes four canisters in Citrus Blend, Orange Fusion and Fresh Scent, for a total of 300 sanitizing wipes. Start your Spring Cleaning off right!
Please note only NEW TopCashback members are eligible for this promotion; existing members are welcome to introduce friends and family to TopCashback and ask them to order and share the freebie with you. 
How It Works:
1) Simply click the "Get Offer Now" button to go to the Walmart website.
2) Purchase a $10.98 Clorox Disinfecting Wipes Value Pack, Scented, 300 Count.
3) Shortly after you've made your transaction, you will see the transaction in your TopCashback account.
4) Once confirmed, your transaction will become payable within 14 days.
IMPORTANT: Transactions must contain at least one Clorox Disinfecting Wipes Value Pack, Citrus Blend, Fresh Scent and Orange Fusion, 300 Count priced at $10.98 to ensure the $10.98 cash back is credited to TopCashback accounts. Feel free to add more to your cart and you'll still get $10.98 cash back added to your TopCashback account. If amount of items purchased is less than $10.98, the cash back amount awarded will be 4% or less (depending on the item(s) bought) of the purchase price instead of $10.98.
This offer is available to new TopCashback members only. However, as TopCashback doesn't limit accounts to one per household, if you're an existing member now's the perfect time to tell your husband or wife, mom or dad, roommate, neighbor or anyone else about TopCashback and perhaps they'll share the cheapie with you. If they haven't used TopCashback before, ask them to sign up through your Tell-A-Friend link and you'll get a $10 reward if they go on to earn $10 in payable cashback.
Details: 
– open until 11:59pm PT on April 23, 2017 or supplies run out; whichever happens first
– available while it's priced at $10.98; if the price changes, the deal's over
– subject to supplies and pick-up/shipping availability
– applicable for purchases made directly after clicking through TopCashback
Save
Save