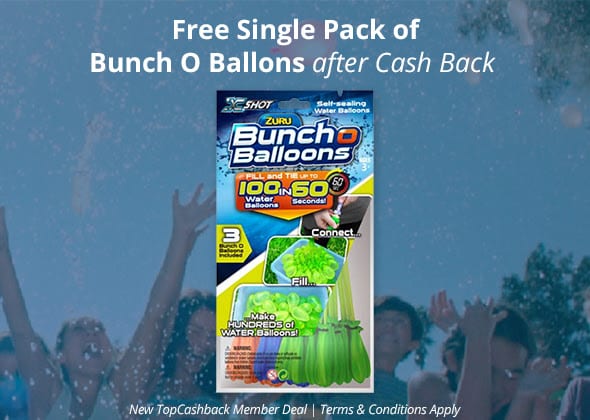 TopCashback Deal:
FREE Bunch of Balloons – Water Balloons
We have a AWESOME TopCashback Deal. You can get the Bunch O Balloons for FREE after TopCashback deposit! This deal is only good through 7/28 or while supplies last.
This offer is available to NEW members only. There is a limit of one per TopCashback account. However they do not limit to just one account per home, so if someone in your home has not signed up yet, be sure to tell them.
How To Get This Deal:
Head over to TopCashback and click through to Walmart.
Purchase the Bunch O Balloons for $6.88 (you can add anything else you want to the cart) and get $7.35 cash back.
You will get $7.35 cash back as long as your carts total spend is $6.88 or more 
Within seven days $7.35 cashback will post in your TopCashback account.
Within 21 days it will be payable and can be credited straight to your checking or PayPal account.
Offer available from July 25th  00:00 PST – July 28th 23:59 PST