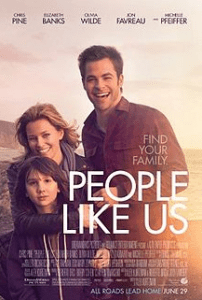 Disney is offering the opportunity for anyone to go to a FREE advanced screening of the new Disney movie, People Like Us, starring Chris Pine, Elizabeth Banks, Olivia Wilde and Michelle Pfeiffer. There will be an advanced screening of the movie next Tuesday, June 26th at 7pm in Seattle (I can't announce the location of the film, but if you get tickets, you will find out the location then).
I wish we could go – it looks like a great movie. But my hubby's leaving the next day for a big field trip with a bunch of high schoolers, so I've got to help him pack. :)
Here's how you can get your FREE advanced screening tickets:
Head to SeeItFirst.net , an electronic ticketing website, and enter the code: 884944
You will then be able to download and print your tickets.
Each ticket will admit 2 people.
You can watch a trailer for People Like Us (above)  and also check out the
People Like Us Pinterest page
 to find out more about the movie.