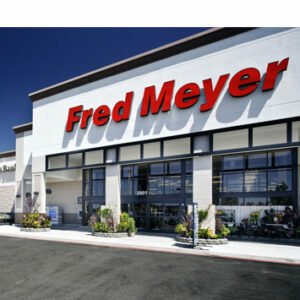 Here are this week's Fred Meyer weekly deals & coupon matchups through 5/18. Make sure to check the store ad yourself & use the Thrifty NW Mom Coupon Database if there are specific sale items that you'd like to match with a coupon.
You can use E-coupons paired with Fred Meyer store coupons. So, make sure to load E-coupons from these sites to your Fred Meyer card before you go: Shortcuts.com, Cellfire.com & FredMeyer.com. You can no longer pair E-coupons with manufacturer coupons, though.
Fred Meyer Coupon Policy:
Fred Meyer has their coupon policy online, which means that you can print it off & stash it away in your coupon binder. One important change to their coupon policy recently – you can use Catalina coupons from other stores at Fred Meyer! Another recent change is that only 2 internet coupons per manufacturer, per customer, per day will be accepted.
*** These are our favorite deals of the week!
Produce:
Fuji, Gala, Cameo or Braeburn Apples – $.77 lb
Anjou Pears – $.77 lb
Navel Oranges – $.77 lb
Red Tomatoes on the Vine or Hot House Tomatoes – $.97 lb
Red, Orange or Yellow Bell Peppers – $.97 ea
English Cucumbers – $.97 ea
1 lb Mini Peeled Carrots – $.97 ea
2 lb pkg Strawberries-$2.58 each / 1 lb pkg – $1.88 ea

Dairy:
Tillamook Butter Salted or Unsalted 1 lb – $1.88 (With In-ad Coupon – Limit 2)
Tillamook Medium Cheddar Cheese 2 lb bar – $4.29 (With In-ad Coupon – Limit 1)

Meat:
Assorted Pork Loin Chops – $1.88 lb
Wild Alaska True Cod Fillet or Wild Northwest Cooked Shrimp Meat – $3.99 lb
Other Grocery Deals:
Powerade or Gatorade 32 oz-$.69 (With In-ad Coupon – Limit 4)
Barilla Pasta – $.75 (With In-ad Coupon – Limit 4)
Fred Meyer Pasta Sauce 12-24 oz -$.75 (With In-ad Coupon – Limit 4)
Country Oven Bread or Buns Bread 16-24 oz, Buns 8 ct or Vita-Bee Bread 22.5 oz – $1.25 (With In-ad Coupon – Limit 4)
Santa Cruz Organic Lemonade 32 oz -$1.25
Skippy Peanut Butter 15-16.3 oz-$1.50 (With In-ad Coupon – Limit 2)
Ocean Spray or Northland Juice 64 oz or 4 pk Bottles – $1.67 (With In-ad Coupon – Limit 3)
Kettle Brand Potato Chips Gluten-Free 8.5 oz – $2.00
DiGiorno or California Pizza Kitchen Pizza 11.9-34.2 oz -$4.50
Use $2/1 DiGiorno Pizza printable
use $2/1 pizzeria!™ from DIGIORNO® Fred Meyer Digital Manufacturer Coupon
Final Price: As Low As $2.50 ea.
Household/Health & Beauty Deals:
Nature's Way Supplements 1-250 ct or 1-32 oz – Buy One Get One Free
Seventh Generation Products All Varieties and Sizes-40% off
Nice N Easy or Natural Instincts Hair Color – $5.99
Use $2/1 Clairol Natural Instincts or Nice N Easy digital coupon 
Final Price: As Low As $3.49