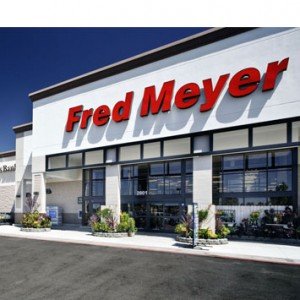 Here are this week's Fred Meyer weekly deals & coupon matchups through September 15th.
Make sure to check the store ad yourself & use the Thrifty NW Mom Coupon Database if there are specific sale items that you'd like to match with a coupon.
You can use E-coupons paired with Fred Meyer store coupons. So, make sure to load E-coupons from these sites to your Fred Meyer card before you go: Shortcuts.com, Cellfire.com & FredMeyer.com. You can no longer pair E-coupons with manufacturer coupons, though.
Fred Meyer Coupon Policy:
Fred Meyer has their coupon policy online, which means that you can print it off & stash it away in your coupon binder. One important change to their coupon policy recently – you can use Catalina coupons from other stores at Fred Meyer! Another recent change is that only 2 internet coupons per manufacturer, per customer, per day will be accepted.
*** These are our favorite deals of the week!
Produce
Sweet Corn – $.25***
Cucumbers or Green Bell Peppers – 3/$1 (about $.34 each)***
Cantaloupe – $.48/lb***
Yellow or Zucchini Squash – $.69/lb***
Gala Apples – $.98/lb
Dairy & Deli
Tillamook Yogurt – $.40 (with in-ad coupon, limit 10)
Buy 2
Use BOGO printable coupon from tillamook.com
Final Price:  2/$.40 ($.20 each)***
Challenge Butter – $2.00
Use $0.55/1 Challenge butter (zip 98513) OR
$1/1 printable coupon from realsummerrealfun.com (must play instant win game to get coupon)
Final Price: $1.00 ea***

Meat & Seafood
Foster Farms Whole Fryers:  $1.18/lb***
Lean Ground Beef – $1.98/lb***
Boneless Chicken Breasts, sold in packs of 4 lbs or more – $2.39/lb (with in-ad coupon, limit 4)***
T-Bone Steaks – $5.99/lb
Other Grocery Deals
Fred Meyer Tomatoes or Beans – $.50 (with in-ad coupon, limit 6)***
Kraft Barbecue Sauce – $.79
Buy 2
Use $.60/2 coupon from 8/19 Smartsource insert
Final Price:  2/$.98 ($.49 each)***
Rice A Roni or Pasta Roni – $.88 (with in-ad coupon, limit 4)
Fred Meyer Buns – $.99
Progresso Vegetable Soup – $1.00
Buy 4
Use $1/4 coupon from 9/9 Smartsource insert
Final Price:  4/$3.00 ($.75 each)
V8 or V8 V-Fusion – $2.00
Use $.60/1 coupon for V8 from 8/12 Smartsource insert OR
$1/2 coupon for V8 V-Fusion from 8/5 Smartsource insert
Final Price:  as low as $1.40***
Ritz Crackers – $2.50
Buy 2
Use $1/2 printable coupon from smartsouce.com
Final price = 2/$4.00 ($2.00 each)
Tombstone Original Pizza – $2.50 (with in-ad coupon, limit 4)
M&M's Candy – $2.50 (with in-ad coupon, limit 2)
Buy 2 Harvest Blend or Candy Corn varieties
Use $1/2 coupon from 8/26 Smartsource insert
Final Price:  2/$4.00 ($2 each) if those types are included
Widmer or Blue Moon, 12 pk – $12.99
Bud, Coors or Miller, 18 pk – $13.99***
Household/ Health & Beauty
**Bonus Coupon:  Extra 10% off Home including Housewares, Home Décor, Furniture, Bedding, Bath, Toys, Tools, School & Office Supplies, Hardware, Home Improvement, Automotive, Sporting Goods, Luggage and Books & Magazines**
CoverGirl Cosmetics – Buy One Get One 1/2 Off
Buy 2
Use $5/2 coupon for LashBlast Mascara from 8/12 Red Plum OR
$3/2 coupon from 8/26 P&G insert OR
$1/1 coupon from 8/12 Red Plum insert
Final Price:  varies
L'Oreal Cosmetics – Buy One Get One 1/2 Off
Buy 2
Use (2) $2/1 printable coupon from coupons.com OR
$2/1 printable coupon from lorealparisusa.com
Final Price:  varies
Revlon & Almay Cosmetics – Buy One Get One 1/2 Off
Buy 2
Use (2) $5/1 coupon for Revlon from 9/9 Smartsource insert OR
$2/1 coupon for Almay from 8/5 Smartsource insert
Final Price:  varies
Physicians Formula & Neutrogena Cosmetics – Buy One Get One 1/2 Off
Buy 2
Use (2) $1/1 coupon for Physicians Formula from 8/12 Smartsource insert OR
$1/1 printable coupon for Neutrogena Lip or Eye product from smartsource.com OR
$2/1 printable coupon for Neutrogena face product from smartsource.com OR
$1/1 coupon for Neutrogena Lip or Eye from September All You Magazine or 7/29 Red Plum insert OR
$2/1 coupon for Neutrogena face cosmetic from September All You Magazine or 7/29 Red Plum insert
Final Price:  varies
Rimmel Cosmetics – Buy One Get One 1/2 Off
Buy 2
Use (2) $1/1 printable coupon from redplum.com OR
$1/1 coupons from 7/29 or 8/26 Red Plum insert
Final price:  varies
Maybelline Cosmetics – Buy One Get One 1/2 Off
Buy 2
Use (2) $1/1 printable coupon for mascara from redplum.com OR
$1/1 printable coupon for lip product from redplum.com OR
$1/1 printable coupon for foundation or powder OR
$1/1 coupon for mascara from 8/5 or 9/9 Red Plum insert OR
$1/1 coupon for lip product from 8/5 or 9/9 Red Plum insert OR
$1/1 coupon for foundation or powder from 9/9 Red Plum insert
Final Price:  varies
Quilted Northern Bath Tissue, 12 double rolls or Brawny Paper Towels, 6 big or 8 regular – $5.50 (with in-ad coupon, limit 2)
Use $1/1 printable coupon for Brawny from facebook.com
Final Price:  as low as $4.5o each***
Taylor Glass Electronic Bath Scale – $19.99
HD Designs Stackable Cabinet – $99.99 (regularly $149.99)
HD Designs Aberdeen 6-Piece Gathering Set – $449.00 (regularly $799.99)
Apparel, Shoes & Accessories
** Mystery Discount Coupon – could be worth an extra 15%, 20% or 25% off!  See ad or Apparel Check-out Register or Customer Service to get yours!**
All Fashion Jewelry – Save 40%
Toys, Movies & Electronics
**Bonus Coupon:  Extra 10% off Home including Housewares, Home Décor, Furniture, Bedding, Bath, Toys, Tools, School & Office Supplies, Hardware, Home Improvement, Automotive, Sporting Goods, Luggage and Books & Magazines**
BIG Toy Sale:  Buy One Get One 1/2 Off
* Includes:  Hot Wheels, Matchbox Cars, Lego Star Wars, City & Super Heroes, Mega Bloks, Fisher Price Minnie & Little People, Action Figures, Bey Beywheelz, Nerf & Active Sport Toys, Dizzy Dancers, Littlest Pet Shop, My Little Pony, Fuzzy Posters & Puzzles, Board, Card & Hand-Held Games
Dave Matthews Band Away from the World – $9.99 (available Tuesday, September 11th)
What to Expect When You're Expecting, DVD+Digital Copy – $16.99
Use $3/1 printable coupon from coupons.com
Final Price:  $13.99
Titanic 2-Disc DVD – $14.99 (available Tuesday, September 11th)
* FREE Act II Microwave Popcorn, 6 pk with purchase & in-store manufacturers coupon
Titanic Blu-ray+DVD+Digital Copy Combo Pack – $19.99 (available Tuesday, September 11th)
* FREE Act II Microwave Popcorn, 6 pk with purchase & in-store manufacturers coupon

Titanic 4-Disc Blu-ray 3D+DVD+Digital Copy – $34.99 (available Tuesday, September 11th)
* FREE Act II Microwave Popcorn, 6 pk with purchase & in-store manufacturers coupon
Maxsound Soundbar – $49.99 (Price Blaster)
Other In-Ad Coupons & Offers
Comforts Diapers – $5.99