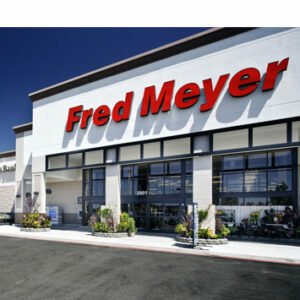 Here are this week's Fred Meyer weekly deals & coupon match-ups thanks to Thrifty and Thriving! Make sure to check the store ad yourself & use the Thrifty NW Mom Coupon Database if there are specific sale items that you'd like to match with a coupon.
You can use E-coupons paired with Fred Meyer store coupons. So, make sure to load E-coupons from these sites to your Fred Meyer card before you go: Shortcuts.com, Cellfire.com & FredMeyer.com. You can no longer pair E-coupons with manufacturer coupons, though.
If you want to know more about Fred Meyer's coupon policy check out our Fred Meyer 101 post here for more details. 
*** These are our favorite deals of the week!
Produce:
Walla Walla Sweet Onions – $.78 
Romaine, Butter, Red or Green Leaf Lettuce – $1.00
Blueberries (2 lb) – $4.98
Raspberries or Blackberries (1/3 flat) – $6.98
Dairy:
Fred Meyer Yogurt $.33 
Tillamook Cheese (8 oz) – $2.00 (with in-ad coupon, limit 4)
Frozen Foods:
Dreyers Ice Cream or Nestle Drumsticks – 2.50 (with in-ad coupon, limit 4)
Freshetta or Red Baron Pizza – $3.99 (with in-ad coupon, limit 2)
Meat:
Foster Farms Chicken Drumsticks or Thighs – $1.49 lb
Extra Lean Ground Beef – $2.48
Fresh Boneless Skinless Chicken Breast – $2.58 lb 
Other Grocery Deals:
Powerade, Fuze, Full Throttle or NOS – $.50 (with in-ad coupon, limit 6)
Vitamin Water – $.69
Nalley Chili – $.89 (with in-ad coupon, limit 6)
Fred Meyer English Muffins – $.99 
Flipz Chocolate Covered Pretzels – $1.00 (with in-ad coupon, limit 6)
Kellogg's Cereal (Krave, Froot Loops, Corn Pops, Frosted Mini Wheats, Frosted Flakes & more) – $1.67 (with in-ad coupon, limit 6)
Buy 2
Use $1/2 Mini-Wheats printable coupon
or $1/2 Corn Pops printable coupon
or $1/3 Kellogg's printable coupon
Final Price : as low as $1.17 each
Best Food Mayonnaise – $2.50 (with in-ad coupon, limit 2)
Use $1/1 coupon from 6/23 Red Plum insert
Final Price : $1.50 each
Ritz Crackers – $2.00
Buy 2
Use $1/2 printable coupon
Final Price : $1.50 each
Fred Meyer Water (24 pk)-  $1.88 (with in-ad coupon, limit 2)
Hillshire Farm Lunch Meat (8 – 9 oz) –  $2.50
Use $.55/1 printable coupon
Final Price : $1.95 each
Doritos or Ruffles Chips – $2.00 (with in-ad coupon, limit 2)
Cascadian Farm Organic Cereal or Bars – $2.99
Use $.75/1 printable coupon
Final Price : $2.24 each 
Other In-Ad Coupons & Offers: 
 

40% off Apparel, Shoes & Accessories with coupon
VO5 Shampoo or Conditioner $.79 (with in-ad coupon, limit 4)
$10 off Carhart Purchases of $39.99+ (with in-ad coupon)