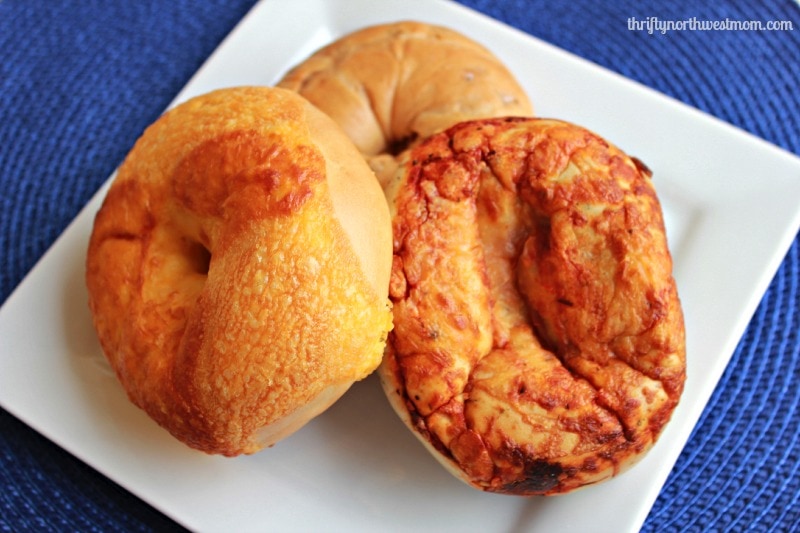 *Update: Just a reminder that the Franz Contest to win Bagels for a Year ends tomorrow, Wednesday October 30th at 8:59pm pst!! There are low entries, so this is a great chance to take a picture to show "how you bagel" & post it on Facebook to enter to win 52 loaves of bagels!!
***************
We mentioned last month that Franz Bakery has come out with 3 new flavors of their New York Bagel Boys gourmet bagels. Franz teamed up with another Northwest favorite, Tillamook, to create the 3 yummy flavors: Pizza, French Toast and Tillamook Cheese.
I had the opportunity to try out the new flavors with my family to see what we thought. My girls were loving the French Toast bagels – a nice, sweet treat for our quick breakfast on the go on the way to school this morning. I am a cheese lover, so of course I had to try out the Tillamook Cheese flavor – as you can see by the picture, it's a big bagel covered in a slice of delicious Tillamook cheese on top. When you toast the bagel, it really brings out the flavors of the cheese and almost tastes like a grilled cheese sandwich. The pizza bagel is very flavorful, too – my hubby loved that it combined 2 of his favorite things – Tillamook cheese and pizza!
As you can see, these bagels are huge – which means that they are very filling! Eat them by themselves toasted with butter or cream cheese or have a bagel sandwich & this will definitely fill you up for a meal.
Franz "How Do You Bagel" Photo Contest:

As you can see, our girls loved the Franz Bakery Tillamook cheese bagels! These are just a few of their many animated expressions! And boy are the bagels big!
Here's a chance to win FREE Franz Bakery bagels for a year if you have the winning photo entry!
How it Works:
Head over to the Franz Facebook page, like the page and then check out the "How do you Bagel" Photo Contest
Follow the directions for the contest to upload an image showing us "How do you bagel?" (you don't need to use Franz bagels – any bagel picture will work)
Once you upload your photo, share the page with your friends to encourage them to vote for your photo
The photo with the most Facebook votes will win a year's supply of Franz bread!
*This contest will run through October 30, 2013. 
This Franz New York Bagel Boys Gourmet bagels photo contest is for residents of the US only, in the Northwest region of the country (Oregon, WA, ID, Montana, Wyoming , Utah &  California (north of Chico). Find full rules here.
Disclosure:  We received a pack of bagels & gift card to review the Franz New York gourmet bagels. All of the information shared is our own opinion & pictures.