This post is sponsored by Bestway. I was sent the product to review to share my honest thoughts & opinions with you, all thoughts and opinions are my own. See our disclosure policy for more details.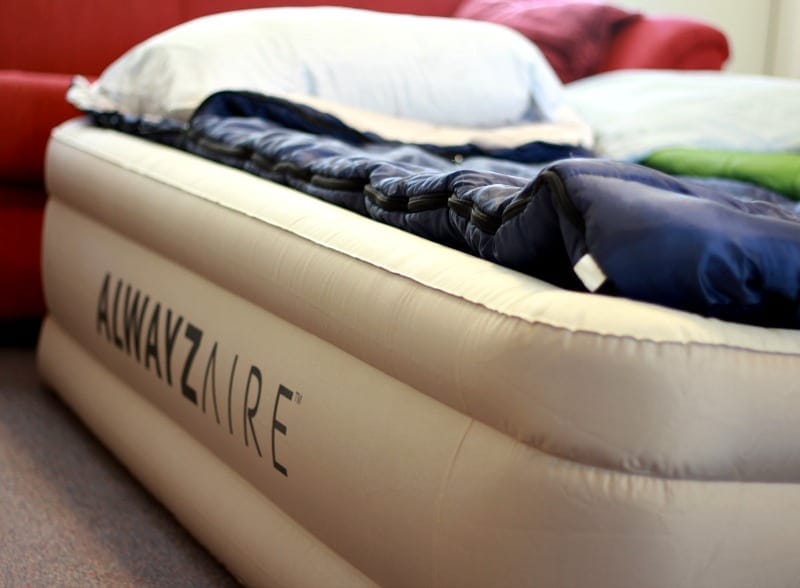 This summer has been filled with visitors for us – starting with sleepovers with friends for my girls after school was out to hosting 2 Chinese Exchange students in July and now family visiting in August.  We also have had friends stay with us in the past, up to a month, when they are between houses. We just love having people stay with us, but it does make it challenging when coming up with places for everyone to sleep that are comfortable. We do have a guest room with a queen size bed, but frequently are in need of additional places for people to sleep as we have a bonus room, but no bed in there. So, we have always used air mattresses in those rooms. The problem is that the air mattresses we've used are just not the same as sleeping in a bed, especially if it's more than a night or two, as the air mattresses always seem to lose air during the night & every night, we have to pump them up more and then blow air into them to get them really full enough to sleep comfortably on for another night.
We had the opportunity to review the Fortech 17″ Queen Airbed with a Built-In Alwayzaire Pump from Walmart.com and I was intrigued as this Airbed has 3 preset comfort levels and the special pump that is supposed to monitor & control the air pressure all night – very different from any airbeds we have used in the past, including the high-quality one that we have had for the last few years to use at home. Our biggest issue with our current airbeds (including the ones we use for camping) is that they all deflate during the night, so they start off comfortable but during the night, they get less & less comfortable as you move around due to less air and then you wake up with a semi-deflated mattress and an aching back. In fact, after our last camping trip a few weeks ago, I had to go to the chiropractor the very next day to get my back feeling better after sleeping on our uncomfortable air mattress for several nights in a row.
Here are the features of the Fortech Airbed with the Alwayzaire Pump:
This queen size airbed measures 80 in. x 60 in. x 17 in. (2.03m x 1.52m x 43cm).
Safety valve makes it easy to inflate. Includes built-in 110-120V~ electric AlwayzAire pump (ETL approved) that monitors and maintains air pressure continuously.
Inflates in 150 seconds.
Great for indoor use, with canvas-feel fabric top, outside and bottom.
Unique rib and surround frame design offers advanced support and helps to eliminate roll offs.
Clear, user-friendly pump panel.
Easy one click operation.
Three options for airbed firmness.
Internal sensors detect air pressure continuously and silent pump engages to maintain constant firmness.
Soft back light easily displays the level settings even in a darkened room.
Designed with sturdy Y-beam construction, to be rigid and stable.
Includes one airbed and one travel bag.
Review of the Fortech Queen Airbed with Built-In Alwayzaire Pump: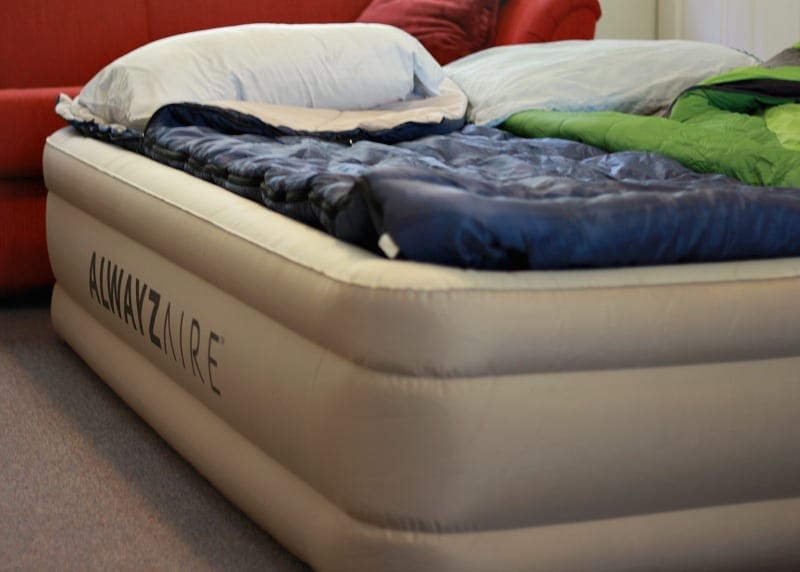 Since we have family arriving in a few days, we wanted to give the Fortech Airbed a try before our family arrived to make sure it would be comfortable for them to use to sleep on. And let me tell you, we were definitely impressed!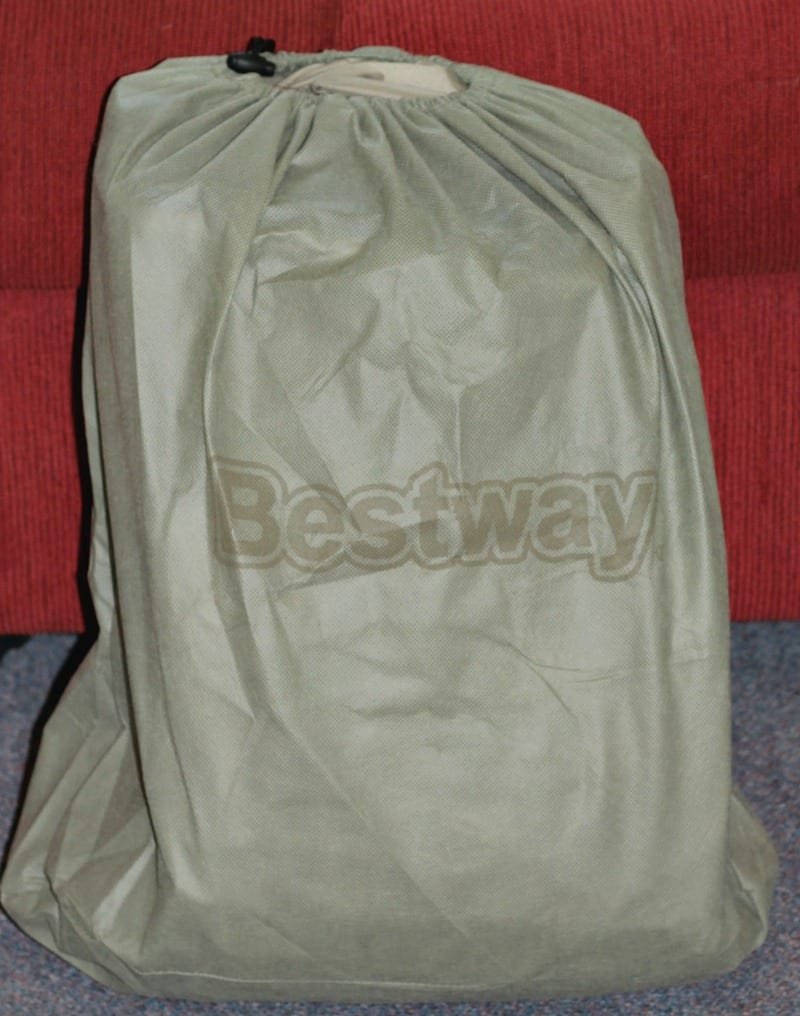 First off, when you open it up, there is the airbed as well as a travel bag. Honestly, the travel bag is made of a thin fabric, so I'd definitely be careful when using it to not carry it by the strap (which is in the back), as I didn't feel the strap would be able to handle the weight of the airbed for too long. But it's nice to have a cover to keep it protected from dust & dirt when storing it in the garage or a closet.
We laid out the airbed and I was shocked with how fast that Airbed was inflated – they say it takes 150 seconds and yes, it was just a bit over 2 minutes as we timed it. Super fast setup which is so nice when you realize you need it last minute as you may have forgotten to set it up before everyone headed to bed. The setup is so incredibly easy – plug it in, push the comfort level you want (1, 2 or 3) and boom, it's done before you know it! Then you can adjust the comfort level as you try it out & see what you think. So easy to set up  & adjust.
What I loved most of all about this airbed, though, is the Alwayzaire pump that runs very quietly (you have to go next to the pump at the end of the bed just to hear if it is running as it's so soft – definitely not the loud noise you hear when filling an airbed). The electric Alwayzaire pump is constantly monitoring and maintaining the air pressure you choose for the bed during the night, so that it stays at the firmness level that you choose when you go to bed. This makes it so different from other airbeds on the market, even the higher quality ones, as I have not found one that will constantly be running during the night if needed to keep the comfort level the same.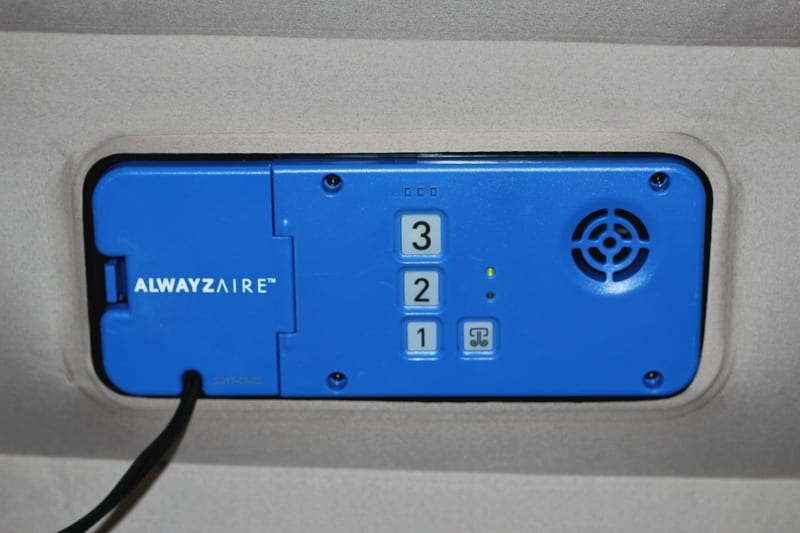 There are 3 preset comfort levels for firmness– soft, medium & hard.  I personally liked the soft better – and my husband was the opposite, he liked the firmer level the best. We've only recently realized, after 17 years of marriage, that we are totally opposite on what type of mattress we like (gotta love that, ha!), so it's nice that there are 3 options with this one. To set the comfort level, all you have to do is click the number you want – 1 is the softest & 3 is the firmest. There's also a little button to the right on the pump with a deflate symbol – you can hold that button down & it will very slowly deflate if you want it even softer/less air, too.
Another favorite feature of this airbed for us are the sides – they are slightly raised all the way around the bed, which makes you feel more secure in the bed & helps to keep your sleeping bags and pillows from sliding off the air mattress. It honestly just felt more comfortable, too, to have that raised edge alongside the bed.
We received the queen size mattress and it is a nice large size – both my husband and I are tall at 5'9 and there was plenty of room from where our feet ended to the end of the mattress, so it definitely can accommodate tall people with this bed. It is also quite high as you can see in the pictures when comparing it to our love seat – the airbed is almost as tall as the love seat cushions and it is not a low couch, but a typical couch. So it is quite high off the floor which is nice that your guests do not have to crawl out of bed in the morning or during the night.
This Fortech Airbed with Built-in Alwayzaire Pump is definitely worth paying a bit more to get such a high-quality airbed and to find an airbed that your guests will be happy with, especially as they can determine their firmness and comfort level with the touch of a button. And then know that they will wake up with that same comfort level, thanks to the pump keeping that same air pressure all night long.  Having a quality Airbed will definitely give you the confidence to host more family and friends at your home knowing they will be sleeping in comfort all night long!