There are only 4 days left to take advantage of the free lifetime PREMIUM membership from Food on the Table! This deal is currently only available for the month of April, and there is just no way to know if they will extend it beyond that, so I recommend signing up now if this is something you are interested in.
Food on the Table is a meal planning service, that helps you plan you weekly grocery list, menus, savings and more.
I signed up a few weeks back and am really happy that I did! It's so easy, you choose your favorite grocery store, what kinds of foods you eat (chicken, beef, vegetarian, seafood, gluten free, low carb, etc.) and they provide you with several meals. The best part is, you choose which meals you want, press "add to grocery list" and they will let you know which items are on sale!
You're probably wondering how a service as helpful as Food on the Table is free. Well it normally is not, but Food on the Table has extended its free offer through the month of April, and they are offering the premium service for free – forever – to those that sign up with this promo code this month.
Go ahead and sign up for Food on the Table using code SPRINGFREE and try it out! Be sure to come back and let us know what you think.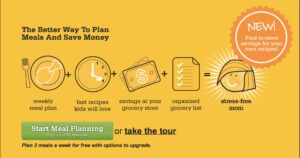 Here is how to get your free membership:
Create an account at Food On the Table 
Enter code SPRINGFREE at checkout
Enjoy your free membership!