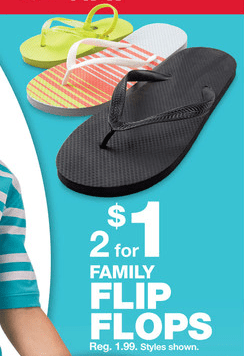 Flip Flops For The Family
Here is another great deal on Flip Flops for the family! Now through July 5th  Kmart  has them on sale for 2/$1! That makes them just $0.50 per pair. There is a pretty nice selection to choose from too.
They show up as $1 per pair, but when you add 2 pairs to your cart the price will change to 2/$1 at checkout. You have to LOVE when you can get $0.50 flip flops!
Don't forget there is still the Flip Flop deal at Old Navy too!

Thanks, Maven Of Savin!