We just got back from doing some Albertson's doubler deals this afternoon. I'll share the details of my trip with you next, but first I wanted to tell you about 2 *hot* moneymaker deals going on Albertson's, thanks to Facebook Fan Shari's awesome tip this morning. (This is why you want to make sure to check out  the Thrifty NW Mom Facebook page regularly, not just watch for status updates as all of you readers are so great about leaving deal tips for everyone else).
There is a mystery $5 General Mills catalina printing on the Fiber One granola bars (we just don't know how long it will last since it's not a known catalina deal).  I got home just a bit ago & found out about another moneymaker deal on the Nature Valley Granola Thins, with the same mystery catalina deal + a free milk catalina.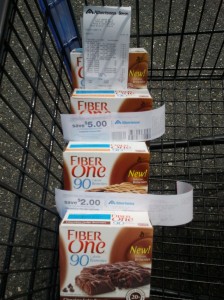 Fiber One Catalina Deal:
Buy Fiber One Chewy Bars, Fiber One 90 Calorie Chewy Bars, or Fiber One 90 Calorie Brownies between 6/13-7/10, save up to $3.
Buy 3 Get $1 Catalina
Buy 4 Get a $2 Catalina
Buy 5+, Get a $3 Catalina
Deal Idea:
Fiber One 90 Calorie Brownies – $2.50 (in cereal/granola bar aisle)
Buy 4
Use (4) $.75/1 Fiber One 90 Calorie Brownie printable coupons (you will need 2 computers or friends/family to print these off as it's only 2 prints per computer)
Use 3 Albertsons doubler coupons
Pay $4.75, receive $2 catalina & $5 mystery catalina (both to use on a future transaction)
Final Price: FREE + $2.25 moneymaker (after factoring in catalina savings & coupons)
(I was only able to print 3 coupons this morning, for some reason I could only print 1 coupon via my laptop, so my total was $5.50, which was still a $1.50 moneymaker)
Nature Valley Granola Thins:
The Nature Valley Granola Thins is an even better deal with a free milk catalina printing in addition to the mystery $5 catalina. Unfortunately I didn't find out about that deal until I got home – wishing I wasn't 20 minutes from the nearest Albertson's or I'd go try this deal tonight. But, I've got to get caught up on deals for you guys! Thanks to Facebook Fan Shari for  the details & picture!
Catalina Deal:
Buy Nature Valley Granola Bars between 6/13 – 7/10 and save up to $3.
Buy 4, get $2 catalina
Buy 5 or more, get $3 catalina
Deal Idea:
Nature Valley Thins – $2.50
Buy 4
Use (4) $.75/1 Nature Valley Granola Thins coupons from the 6/26 Smart Source insert
Use 3 Albertson's doublers
Pay $4.75, receive $2 catalina +$5 Catalina + catalina coupon for free milk
Final Price:  FREE + $2.25 Money Maker + Free Milk catalina (after factoring in catalina & coupons)