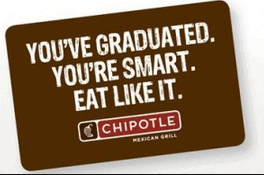 The holidays are a great time to take advantage of special gift card promotions that take place.  For those hard-to-buy-for people, gift cards are sometimes what they request, but it's difficult to find a way to save on gift cards. So, I love to find these special promotions as ways to save.
You don't have to get these gift card deals as gifts. Take advantage of the deal to save you money on purchases you may already be making. Example – If you are thinking of doing a project at home and will be going to Lowe's, this would be a great time to get a little extra out of that purchase.
Here are the current Gift Card Deals:
Albertsons – Spend $100 on participating gift cards, get $20 coupon at checkout. Coupon will print out at checkout. Valid Dates: May 26th – June 16th. Some gift cards include: Kohl's, Toys R' us, Applebees, AMC Theaters, BassPro Shops, Sears and iTunes.
Applebees – Buy $50 in gift cards (in the restaurant or online) & you'll get a $10 bonus gift card
Chipotle – Buy $30 in gift cards and bring your receipt in on or before June 30th & you'll get a FREE Burrito, Bowl, Order of Tacos or Salad
 Macaroni Grill –  Spend $25 in Macaroni Grill gift cards from May 1st – June 16th and you will receive a $5 Grazie gift card that can be used on food, non-alcoholic drinks & retail merchandise. You can use the $5 gift card from June 17th, – July 23, 2013.
Outback Steakhouse – Free $10 gift card for every $50 you spend in gift cards between 4/1/13 – 6/16/13. You will not be able to use the $10 gift card on the day of purchase.
Red Robin – Buy a $25 Limited Edition Red Robin gift card, get a FREE movie ticket to see The Wolverine. Movie comes out July 26th in Theaters.
Ruby Tuesday – Purchase $50 in gift cards & receive a free $15 gift card + Free ground shipping. Only available online (not in restaurants) between April 23 to June 16th, 2013.
Safeway – Spend at least $50 on participating gift cards and you will receive a $10 off catalina to use on a $25 or more purchase. The catalina coupon will expire within 1 week of printing. This catalina deal is good thru 5/14/13. Some of the participating gift cards are: Michaels, Bath & Body Works, Applebees, Express, AMC theaters & more. Plus, get $.30 off per Gallon of Gas when you spend $50 or more on groceries in a single transaction. 6/12 – 6/18.
If you look in the Safeway Just 4 U Coupon Center there are also a few more deals you can find:
(you'll need to make sure to add these to your account)
Spend $50 or more on iTunes gift cards and get $10 off
Spend $50 or more on Fandango Gift Cards and get $10 off
You'll also want to check the Personalized Deals section of Safeway as many people have said they have a 5x Gas Reward Points (I have it in mine as well) – Buy select gift cards and get 5x the gas reward points! This offer doesn't expire until September 10th for me.
Tony Romas – Purchase $50 in gift cards (online or in-store) & receive $15 in Romabucks Free. Valid April 15th – June 17th, 2013. Extra bonus card valid through September 1, 2013.