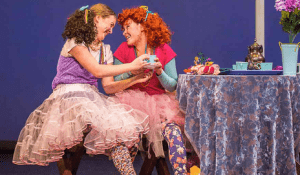 Fancy Nancy Discount Tickets
If you have a Fancy Nancy fan, check out this fun event! The fun children's musical based on the book Fancy Nancy has discount tickets on sale! Right now tickets are half off the original price. You can get a ticket to see Fancy Nancy for as low as $7.50 each.
Note – There is additional service charge per ticket.
About Fancy Nancy:
The simply fabulous little girl whose choice of wardrobe leans towards feather boas, fairy wings and fuzzy slippers, Fancy Nancy stars in her very own fun-filled musical for kids, complete with great songs, clever lyrics and valuable lessons. Based on the best-selling children's books by Jane O'Connor, Fancy Nancy the Musical follows the always-posh Nancy and her friends as they prepare for their very first school recital. Nancy is positive that she'll be selected for the lead. But when another girl wins the coveted role, Nancy's stuck playing a dreary tree. But no matter, she's determined to bring some of her signature ooh-la-la to the mundane role. See her work her magic at Tacoma Musical Playhouse.
Available Dates & Times:
April 22nd @ 11:00 am
April 222nd @ 2:00 pm
April 23rd @ 2:00 pm
April 29th @ 11:00 am
April 29th @ 2:00 pm
Location:
Tacoma Musical Playhouse