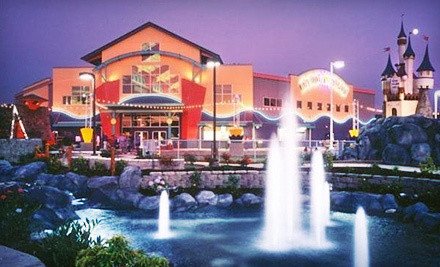 Groupon has the Family Fun Center discount card deal right now! You can purchase a 110 pt card for $13 (reg. $25), almost HALF OFF!
If you are new to Groupon you can create an account here, or if you already have a Groupon account go straight to the Bullwinkles Family Fun Center deal here.
It can be used at either the Edmonds or the Tukwila location (but you will have to select which one at checkout)!
I used these cards to throw one of my kids birthday parties there last year on a budget! I was able to collect a few of them over the year, and then just brought in our own cake! It cost me less then $50 to throw a small party there!
Fine Print:
Expires in 1 year
Limit 1 per person, may buy multiple as gifts. Limit 2 per visit. Limit 2 per household. Valid only for location purchased.
You will only get one card (per voucher), but you can use it for multiple people if you have more then one kids. You can find prices for activities at the fun center here, to see how far the card will get you. For example, you could get 4 kids into the Kidopolis complex for free play for the day with the card (normally $5.50 pp). Other examples include: Laser tag is 28 points, and the batting cages are 12 pts. You can also use the card to get tokens for the games too.