Everything you need to know about the Disneyland MaxPass – Now Sold With Tickets!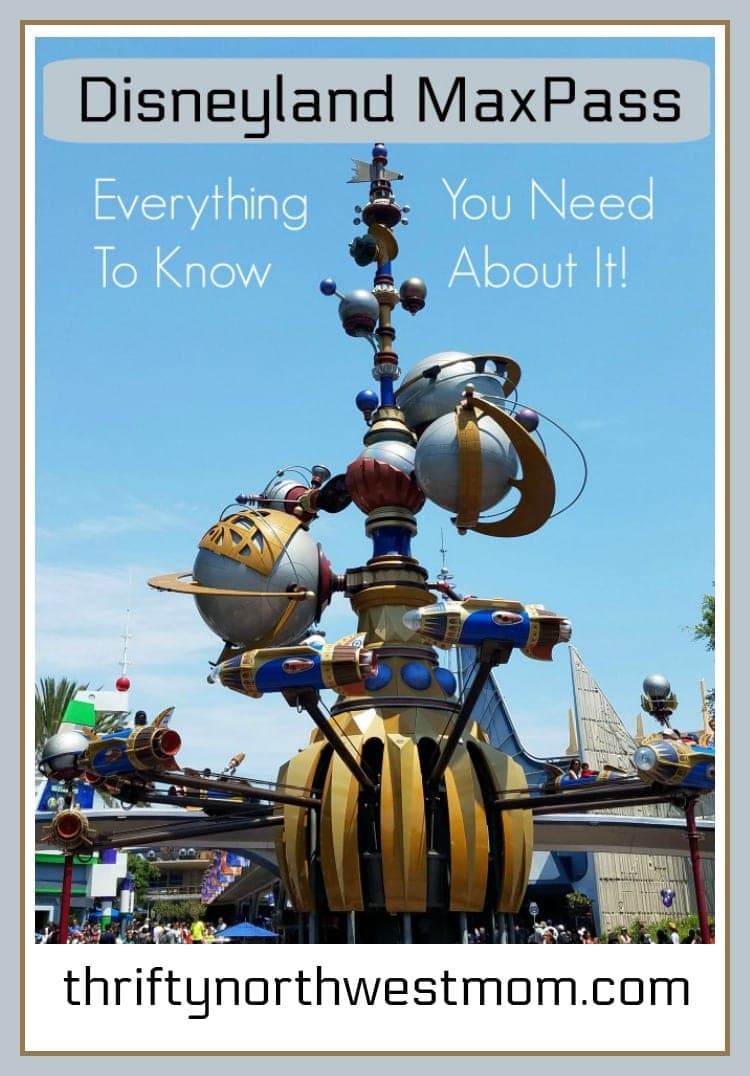 Everything you need to know about the Disneyland MaxPass – Now Sold With Tickets!
There have been some recent updates on how the MaxPass at Disneyland is working, and we have all the details for you here.
The main change is that the MaxPass is now being sold with certain types of Disneyland tickets. The MaxPass is available on all of the Get Away Today 2 – 5 day Park Hopper and 1-Park per Day Disneyland tickets, including the Extra Day Free tickets!
While this does not change the cost for MaxPass (it is the same as if you were purchasing at the park), you will have the convenience of having it already tied to your tickets – so saving you time and hassel. Additionally, you will save money on your Disneyland tickets upfront with the Get Away Today discounted rates.
If MaxPass is added to a ticket, it must be added for each day of the ticket. If you do not want to upgrade all of their park days with the MaxPass, or aren't sure if you want to add MaxPass yet, it can be added easily once you are at the Disneyland Resort too.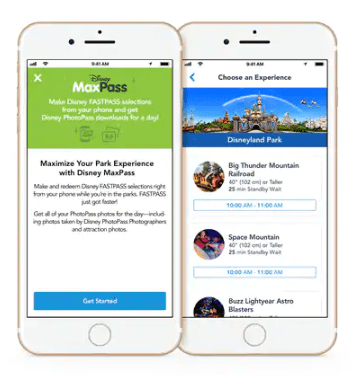 More about How the MaxPass Works – To Decide If It Is Right For Your Trip ::
Obviously Disneyland is the Happiest Place on Earth, how could it not be? The food, the rides, the shows, everything is just loaded with magic! Not only is Disneyland one of our favorite places to travel to, but Get Away Today is our favorite way to book our trips. They have discount Disneyland Tickets and a Best Price Guarantee on their packages, so you know you are getting the best deal. Plus, on the rare chance you find a cheaper price somewhere else, they will beat it. You can even use promo code ThriftyNW to get an additional $10 off your hotel and tickets package.
Disneyland is making it faster, and easier to get on rides with the MaxPass offering now too! 
Disneyland is always coming up with new ways to improve the park and enhance your experience. Recently they introduced the MaxPass to the Resort, and it is a game-changer! We've gathered everything you need to know about MaxPass to make the most of your trip. If you have used the Fastpass system at Walt Disney World before, it is kind of similar to that (only you have to pay for this one). Here are all the details.
Here are tips you will need to know to use the MaxPass at Disneyland:
1.The MaxPass and Fastpass are similar, but different. The Fastpass is still a free offering that you get with your regular admission tickets to the parks. You do have to go in person, to pick up your Fastpass. The MaxPass on the other hand, is a paid perk, where you can get Fastpass entrance to rides right from your smart phone.
2. It is now Available to Purchase With Your Tickets Ahead of Time (see details above). It used to be that you had to wait until you were in the park to purchase it, but that has recently changed. You can now add it to your tickets when you buy them. To activate Disney MaxPass, you will still need wait to scan your physical Disneyland® tickets into the Disneyland® app once you are in the Parks. Please note that you cannot activate Disney MaxPass until you have been granted admission into the Parks.
You can also purchase it separately from your tickets, through the Disneyland App when you arrive. Unlike normal Fastpasses, the MaxPass is not automatically included in your ticket (unless you purchase the option with MaxPass on it.
The cost of the MaxPass is currently $15 per person, per day. That means if you are a family of 4, and going for 2 days, if you want to add MaxPass for everyone for both days, it will cost you an additional $120 ($15×4 people, x 2 days). So while it will make your trip much more enjoyable (and convenient), and give you the benefit of the Photos, it does come at a cost.
Pro Tip – you are not able to activate your MaxPass until you have entered the park. Be sure to have the Disneyland app installed, and ready to go, so you can connect your park ticket and start reserving your Fastpass once you get in. If you are staying in one of the Disenyland Hotels, if you enter the monorail in Downtown Disney you should have access to start reserving a Fastpass once your ticket has scanned, and you have walked through the gate! Once your MaxPass is activated that first time, you can then reserve Fastpasses from anywhere.
3. MaxPass Comes with PhotoPass – Big Perk!
One big perk is that when you purchase MaxPass, you get PhotoPass included. This means you get unlimited downloads of any pictures taken of you that day. The PhotoPass alone is worth the $15 a day, so you are getting an incredible value with the MaxPass.
In fact it could even save you quite a bit, if you bought one day of Max Pass, just for the photo benefits. Buying the one week PhotoPass option recently cost me $78. If I would have been smarter I would have purchased the MaxPass for myself, and used it daily to get the photopass images I wanted. You can connect all the photos you get to one account, so I would have only had to buy it for one person (if my intention was to get photos, not to save time on the rides), and still had all the benefits. We were there for three days, so I could have spent $45 for all three days, verses the $78 I paid for just the photos!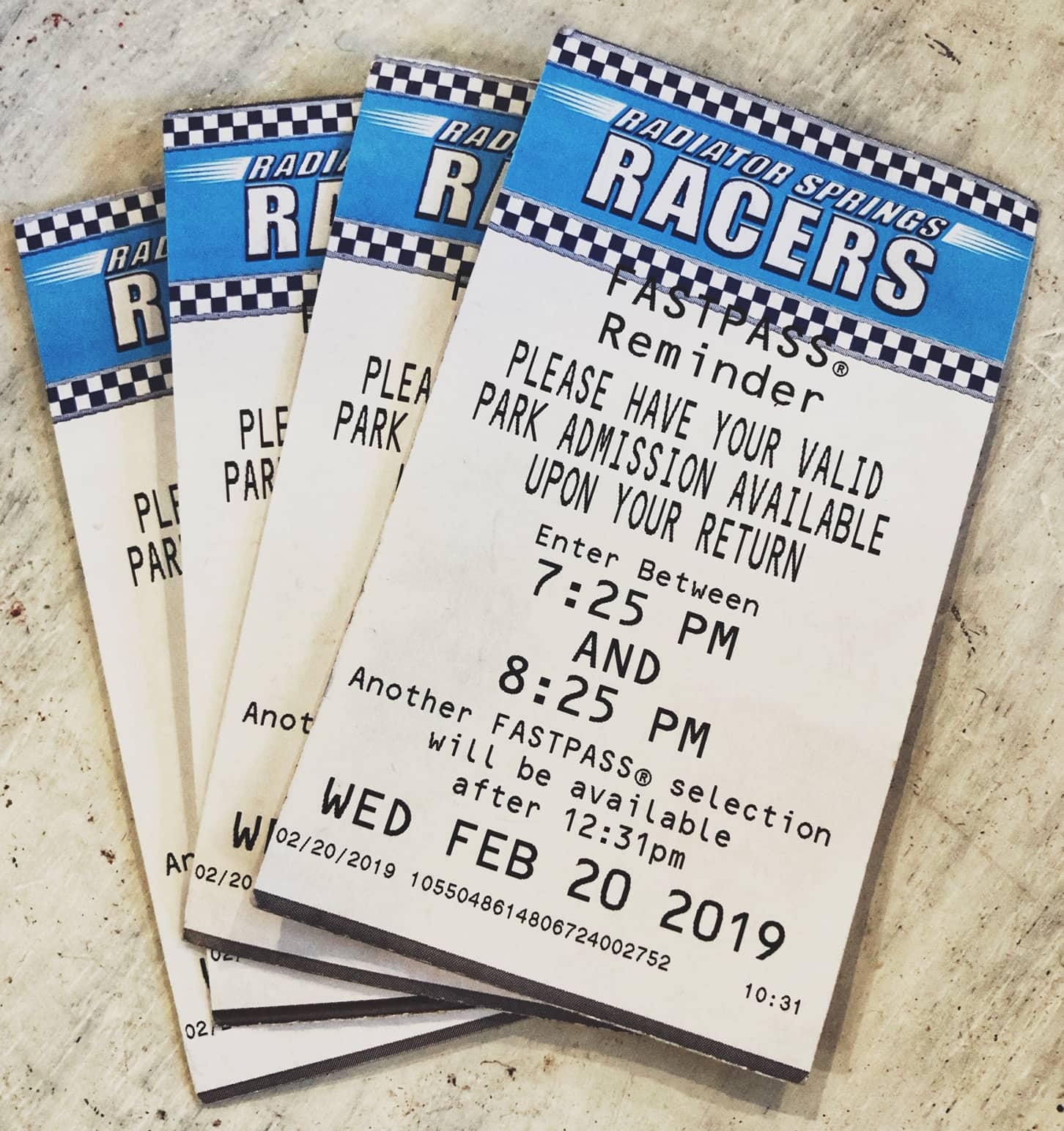 4. How Does MaxPass Differ From the Traditional Fastpasses.
You do not physically have to go to a kiosk to get your Fastpass. You do it all on your phone. Everything is done digitally and the moment your next Fastpass is available, you can reserve it – all with your phone! That means if you are in line for a ride, you can get your next Fastpass right there, all with the touch of a button. You can reserve them for either park, no matter which park you are in at the time. If you are in line at Space Mountain and you want to make a Fastpass reservation for Radiator Springs Racers, no problem. As long as those Fastpasses are available you can get them. Keep in mind that the Fastpasses from the MaxPass are pulling from the same pool as the normal Fastpass system so availability can run out.
One big difference besides not having to physically walk to a kiosk, is the wait time between when you reserve one Fastpass to when you can get another. With the traditional Fastpasses, you have to wait 2 hours in between each pass. For the MaxPass the time will vary, depending on the availability of a ride. Some rides with short wait times will allow you to book your next Fastpass right away. Others with long wait times will make you wait longer. You should not have to wait any longer then 1.5 hours with the MaxPass to reserve your next Fastpass though, so you will be able to get quite a few more rides reserved then through the traditional method.
Another difference is that you can cancel your Fastpass if you change your mind, allowing you to book a new one. That is a nice benefit if you decide you want to ride a different attraction vs waiting for the one you booked. Once you pull a traditional Fastpass from the kiosk you have no option to book another one until that two hour waiting window is up, even if you change your mind.
One last difference is that you can sometimes pick up Fastpasses for rides that have stopped offering them for the day. The way this works is that if someone else cancels their Fastpass, it can pop back up in your mobile app as available and you can book it. Once the kiosks are closed for the traditional Fastpasses, they do not open back up.
5. When you are ready to redeem your Fastpass, it's easy! You have two options when it
comes to redeeming your Fastpass. You can either scan your phone which connects everyone in
your party's Fastpasses, or you can each scan your park ticket like you would a normal Fastpass.
Whichever way you choose, it is super simple!
Pro Tip – Just like traditional Fastpasses you can redeem your MaxPass reservation 5 minutes before the reservation time, and 10 minutes past it. That gives you a little extra wiggle room in your planning process, and if you get to a ride early, as soon as you are at the 5 minutes before window go ahead and scan your Fastpass!
6. We're guessing you have figured this out by now, but you need a smartphone when
using MaxPass. Your Disneyland app also needs to be totally updated in order for it to work
properly. If not everyone in your party has a phone/smartphone, no worries! Like mentioned
previously, you can connect all your Fastpasses to one phone, so one person in your party can
be in charge. You can also use this feature for the digital Fastpass system if you scan your ticket
into the app.
Pro Tip – If you are going to use MaxPass, we recommend that you bring a portable battery charger with you to make sure your phone stays charged all day. It will be a big disappointment if you pay for the service and your phone battery died and you lost access to it. Disneyland does have a couple of phone battery charger stations, where you can buy a portable charger – but those will run you around $30, so save yourself the hassle and extra cost, and come prepared with a fully charged phone and backup charging option. 
Tips for Using the MaxPass ::
A couple of extra tips for using the MaxPass most effectively include –
Reserve the rides that are most popular as early as possible, as they can run out of Fastpass options. In California Adventure this is usually Radiator Springs. In Disneyland it is usually Space Mountain.
If you are on in line for a ride that breaks down, or is shut down for any reason, you should see a multiple experiences option pop up on your app. You can now use that for any ride in the parks you want to, so I would suggest using it for the one with the longest wait time! If you do not see it automatically pop up in your app (it should) see a ride cast member and they can add it for you.
If you are getting MaxPass, we recommend you use it with Park Hopper tickets. That is because you will be able to maximize the benefits of it by being able to hop between parks, to get the most for your money that day. Since you will be waiting in fewer lines, you will have more time to experience the parks, and this will also allow you to book Fastpasses later in one park, after the other may have closed for the night.
Check to see which park has early hours for the day you are visiting. Reserve your Fastpasses first in the park that does NOT have magic morning hours for that day (because it is usually less crowded and you will have more options earlier in the day). Some of the bigger rides in California Adventure run out sooner (like Radiator Springs and Guardians of the Galaxy) so start with those.
It is important to mention that you definitely don't need to use MaxPass every day you are in the park. We recommend using it the first day you are in the parks to experience all your favorite rides that offer Fastpasses. And, during this first day take all the PhotoPass pictures you can for your download! Not only will it save you money using it for just one day during your trip, but you will still get all the perks. The new digital Fastpass system is really easy to navigate and just as great as Fastpasses have been in the past. We are so excited for the MaxPass and can't wait to try it out at the parks! When you decide to head to the park, book your Disneyland package with Get Away Today. They have discount Disneyland tickets and reduced hotel rates making your trip not only magical but affordable. Plus, you can use promo code ThriftyNW for an additional $10 off your vacation package. That's the cost of using one full day of MaxPass! Give their agents a call at 855-GET- AWAY or go online to getawaytoday.com to book your package. Happy travels!
Be sure to check out our Disneyland Deals page too, for LOTS of tips on how to save the most on a Disneyland Trip!