Now that summer is here, many of you may be taking road trips with your family and one of the biggest costs for your road trip is factoring in the cost of gas to get where you're going. This is true even more so in the last few years as the spring and summertime are the most expensive times of year for fuel, so this means we need to get creative about finding ways to save on rising gas costs.
So, we wanted to remind you about the awesome Fuel Rewards program at Fred Meyer and QFC stores in the Pacific Northwest (Washington, Oregon and Idaho stores). Right now, you can earn up to $1 off per gallon at the pump to use at Fred Meyer, QFC and Shell gas stations.  You can then use this discount on up to 35 gallons, which is a potential savings of $35 at the pump.
Some highlights of the program include:
You will earn $.10 off for every $100 you spend at either store, up to $1 off per gallon (can use on up to 35 gallons of gas). Previously, you could only use $.10 off per transaction at the pump.
You can earn your savings when you shop at both QFC or Fred Meyer. This is great news for us couponers who can compile their points by shopping deals at both stores!
You can use your gas savings at both Fred Meyer Gas Stations or Shell Gas Stations.
You can redeem some of your points or all of your points (up to $1) at the Fred Meyer gas station. If, for example, you have 1000 gas reward points (or $1) off at any given time, you could use $.50 off to fill up your vehicle, and your husband could use the remaining $.50 off to fill up his vehicle (you will only have the option to use them all at Shell Stations).
You earn 50 points for prescriptions and you also earn double Fuel Points for every dollar spent on most third-party gift cards from the in-store Gift Card Malls.
You can check where you are with your rewards at any time on the Fred Meyer Mobile App (plus you can load coupons with it too)!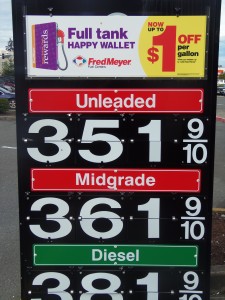 (Not current price)
Giveaway – 2 Readers win a $50 Shell Gift Card for Gas
We are pleased to be able to provide 2 $50 Shell Gift Cards so that 2 Thrifty NW Mom readers will be able to save some money on your gas this summer, maybe to use towards a fun road trip you have planned!
This giveaway will end on Thursday 6/13 at 9pm pst.
The winners will be drawn using "And the Winner Is" plugin and announced on the blog.  I will also email the winners. The winners will have 48 hours to contact me, otherwise a new winner will be drawn. US residents only & you must be 18 yrs or older to enter the giveaway. This giveaway is not affiliated with Facebook in any way.
Here's how to enter this giveaway::
1st Entry (required entry): Leave a comment below letting us know how you plan to use your extra gas savings (take a road trip this summer, use your savings on something else, etc.)
Extra Entries : (make sure these are all separate comments, with a comment for each entry)
2) Subscribe to the Thrifty NW Mom email updates (and leave a comment below to let us know you did so, must be verified)
3) Share this giveaway via Facebook, Twitter or Google + ( and then leave a comment on this post to let us know how you shared! )
Disclosure: Shell is supplying the gift cards that will be given to  a Thrifty NW Mom winner randomly chosen.  We did not receive any compensation for this giveaway.  All opinions are 100% mine. See our disclosure policy  for more details