Guest Post by my husband, Ben – Thrifty NW Dad:
Ever needed to get to a file on your home computer, but couldn't? Or wanted to share files with others, without the pain of emailing them? Dropbox is a small (free!) program you put on all of the computers you work with.  It will create a folder on the  desktop of each computer. Any file you place in one Dropbox folder can be seen by ANY of the computers by looking at their Dropbox folder.
Say Jen wants me to look at a large document, but I'm at work. It would be a pain to email the document  to me, wait for me to open it, make the changes, and send it back to her. Instead, she can save the file on our home computer's Dropbox folder. I then open my Dropbox folder at work, open the file, make the fix, and then save it back to the folder. She just has to open the file again, and it will be the new file.
You can also share folders using Dropbox. So, say I want to share pictures of our daughters with my mom.  I simply create a folder in the Dropbox folder, and I can choose to share that folder with any Dropbox user  I choose!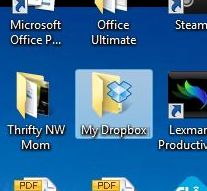 Whatever I put in this Dropbox..                             Shows up in this Dropbox folder on the other computer
Dropbox will give you 2GB of storage for free, after that, you do have to pay ($9.99/ month for 50GB, $19.99 for 100 GB), but we have a lot of stuff and are only using 1 GB. There are a ton of ways to use it:
– Share work documents between work and home
– Share documents between home computer and laptop
– Share pictures with friends and family
– Edit documents in real time, without sending them over email
– Work together with clients or coworkers on projects
In short, Dropbox is a good way to share and sync documents to all your computers (and in some cases phones!) without the hassles of email, thumb drives, etc and it's free! I know it has really helped us keep files much more organized.
Thanks to my husband Ben for sharing about Dropbox! I have to say that I would be lost without Dropbox in regards to  blogging.  It has made it so much easier for me to switch between our laptop & home computer by keeping all of my files in my dropbox.  I'm able to store spreadsheets, Microsoft word documents, picture images for my posts & much more in the dropbox & then I can work on either computer without having to transfer files. Makes my life SO much easier!
Ben actually has a blog called Thrifty NW Dad that he started last summer. He took some time off while working but since he'll have some more free time this summer (in between teaching summer school) – he's going to be starting to post again soon! You'll find bargains & tips for sports deals, electronics, tools & other "guy" topics! :)