Dollar Tree: $.50 Pepperoni and $.40 Solo products
There are several new printable coupons that match up for a great deal on items found at Dollar Tree stores!  Read Dollar Tree coupon policy here.
One important note: Dollar Trees are a franchise, so products will vary store to store. The items below have been found at multiple locations, but we cannot guarantee that you will find these exact items at your local store.  You can only use 2 printable coupons total PER transaction, not per product – per transaction (even if its for different items).
Armour Pepperoni – $1.00
Buy 2
Use $1/2 printable coupon from coupons.com
Final Price:  2/$1.00 ($.50 each)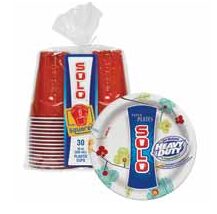 Solo Plates, Cups or Bowls – $1.00
Use $.60/1 printable coupon from CouponNetwork.com (Thanks, Coupon Connections!)
Final Price:  $.40