Disney Phineas & Ferb – Discount Tickets Starting at $10 (Kent and Everett, 1/26 & 1/27)!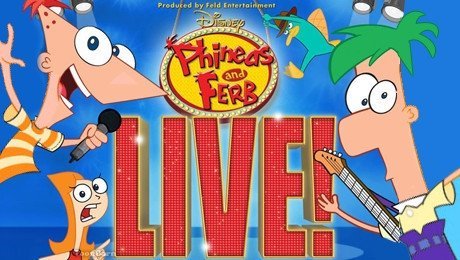 Get discounted tickets to Disney's Phineas and Ferb – The Best Live Tour Ever! through Goldstar right now!  We mentioned last week that the show was coming to Portland and Goldstar was offering discount tickets.  Now, they are also offering discount tickets for the Kent and Everett shows as well, which are at the end of the month.
Tickets start at $10 – $11 (with a $4.50 – $5.50 service fee – so $14.50 – $15.50 total).
To find this deal:
Head to Goldstar and sign in or sign up
Select Seattle as your city  (or Portland if you're looking for the Portland event)
Look under "Added this Week" events or just search "Disney"
Select the Phineas and Ferb show for Kent or Everett
Select the tickets you want. In Kent, the tickets range from $11 (for Upper Level) to $17 for Lower Level + $4.50 – $5.50 service fees.  In Everett, they range from $10 (upper level) to $16 for (Lower level) plus $4.50-$5.50 service fee.
Dates of Shows::
Kent: Saturday January 26th – 1pm and 4pm
Everett: Sunday January 27th – 1pm and 4pm
We also mentioned that this deal was available in Portland as well on Friday January 25th. You can still buy
discounted Phineas and Ferb tickets
from $12 – $17.55 + service fees for the two Friday Portland shows as well!  It's rare to find discounts on Disney shows, so you'll definitely want to take advantage if you were planning to attend one of these shows!