Disney Cruise Lines Will Now Sail From the West Coast!!!
This post may contain affiliate links and I may be compensated for this post. Please read our disclosure policy here.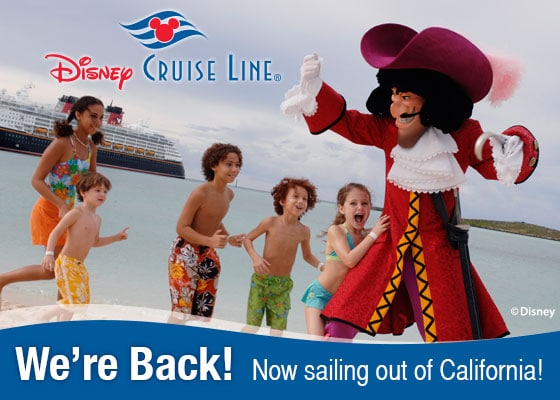 Photo Credit – Get Away Today
If you are from the PNW and have been wanting to take a Disney Cruise you will be very excited about this news. Disney Cruise Lines will now be setting sale from the West Coast! They will be setting sale out of California now. Not only will this likely save many that live in the NW money on airfare, but also tons of time flying etc. We did a cruise long ago out of Fl. and because of the long flight time we had to fly in the day before and get a hotel and stay an extra night after to accommodate flight schedules, so I imagine that this will be much cheaper and more convenient if you live in this part of the country!
Sales for these cruises just opened today, and our contacts in the industry are telling us that the cruises are already going so fast! The two night cruises start at $1,460 for a family of four, the three nights start at $1,694 for a family of four, and the 5 nights start at $2,325 for a family of four.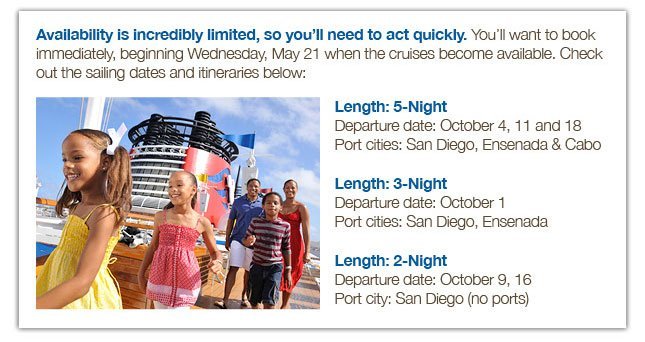 Photo Credit – Get Away Today
Get Away Today offers some of the best Disneyland discounts as far as travel sites go. Plus TNWM readers can save an extra $10 off with promo code ThriftyNW14  Another benefit for Get Away Today is that you can use their layaway program and make payments on your vacation to spread the cost out over time.
Right now to celebrate the Disney Cruises launching out of California, Get Away Today is offering you a 50% reduced deposit, and final payment isn't due until 75 days before your cruise! It's the most affordable way to book your Disney Cruise (*Remaining deposit due at time of final payment, so its really just an opportunity to book for less down)
PLUS you can get a FREE Disney Cruise Planning DVD. My kids love to watch these to get excited, and I find that they are very helpful when planning our trips (plus they are free, and can be a keepsake for your trip too)!
You can find all of our Disney Deals here, including Secrets and Tips for Visiting Disneyland, Saving on Hotels at Disneyland, Save on food cost, Save on Tickets and more!