Discount School Supplies – 83 Piece Set for $5!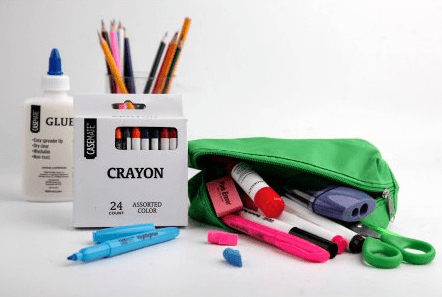 Discount School Supplies – 83 Piece Kit for $5
Walmart has a deal for an 83 piece set of school supplies for grades K – 2 for just $5 (reg $9.95). This is a great price to stock up on some essentials for during the year at home. Or use these supplies to put into Operation Christmas Child shoeboxes in November.
Make sure to check out all the school supplies on rollback or clearance at Walmart.com right now.
Here's what is included:
4 chisel tip highlighters in bright colors
10 washable markers with quick-drying ink in assorted colors
4 dry erase markers with fine point tip
8 #2 pencils, lead wood pencils
12 colored pencils
24 color crayons
1 pair of scissors with stainless steel blunt tip blade and comfortable handle
1 pencil pouch with zipper, strong and durable
1 two hole pencil sharpener for both wood pencils and crayons
2 pink pencil block erasers, latex free and smudge-free
10 pencil top erasers
1 plastic ruler
1 bottle of washable white glue with spreader tip
4 glue sticks, washable and acid-free
There is also a Grade 3 – 5 Kit with 36 pieces on sale for $5 as well!
Here's what is included in that kit:
6 retractable ball pens with metal clip and comfort rubber grip, 2 black/2 blue/2 red ink
2 retractable gel pens, black ink
6 highlighters with chisel tip in assorted bright colors
6 permanent markers with quick-drying ink in assorted colors
6 dry erase markers with fine point tip, 3 black, 1 red, 1 blue and 1 green
1 pair of scissors with stainless steel pointed blade and comfortable handle
1 pencil pouch with zipper, strong and durable
1 two hole pencil sharpener for both wood pencils and crayons
2 pink block pecnil erasers, latex free and smudge-free
1 bottle of washable white glue with spreader tip
4 glue sticks, washable and acid-free