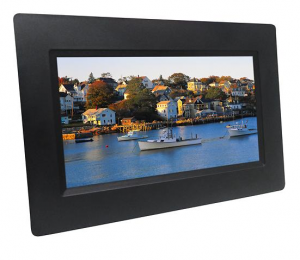 Get aDigital Picture Frame 7″ for only $19.99 at Best Buy.com right now! This frame was originally $59.99. That's a $40 savings! This would make a great gift for that special someone on your list. Get free shipping on orders $25 or more. Or choose to pick it up in the store to avoid shipping costs.
Display your favorite digital images with this VistaQuest VQ0701P 7″ digital photo frame that features slideshow, zoom, preview and rotate image display modes and an automatic slideshow function for simple operation.
7″ screen with 480 x 234 resolution
Creates an impressive display to show off your pictures.
JPEG picture format support
Accommodates your digital photos.
Built-in memory card reader
Supports Secure Digital, Secure Digital High Capacity and MultiMediaCard formats.
Automatic slideshow function
With adjustable slideshow speed and 10 slide transitions lets you showcase your favorite photos.
Clock and calendar display
Keep you apprised of the date and time.
Image display modes
Include slideshow, zoom, preview and rotate for versatile use.
Adjustable brightness, contrast and saturation
Customize the look of your pictures.
Split-screen capability
Allows you to view multiple pictures at once.