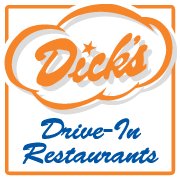 This Sunday (11/6), all veterans can get a free meal consisting of any burger, fries and a soda for free all day at Dicks Drive-Ins. Dicks is a family favorite for my family. Growing up we were on a tight budget and whenever my mom wanted to celebrate anything we ran to Dicks. I love that they are giving back to Veterans like this!
"Any burger on the menu — including the famous, quarter-pound Dick's Deluxe — plus an order of Dick's hand-cut fries and a 16-ounce soda will be served free throughout the day at all six Dick's Drive-In Restaurants to any veteran or active military member as a way to honor past and present military service."
You can stop by from 10:30 am until closing to get this freebie. Veteran and active duty military members who can show any form of military identification or wear their military uniform will be eligible for the free meal.
Thanks Toni (and Dicks of course)!