Dave Ramsey's Total Money Makeover Bundle – As low as $38.25 Shipped!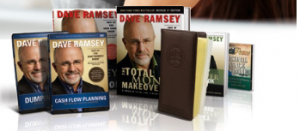 I'm lovin' the deal on Mamasource today – Dave Ramsey's Total Money Makeover Bundle for just $45 + FREE shipping. If you're new to Mamasource, you can use the coupon code: C11871 for an extra 15% off your order, making it just $38.25 shipped. If you're already a Mamasource customer, you can use the code: JAN10 for an extra 10% off, making it just $40.50 shipped!
We love Dave Ramsey's program. We took the Financial Peace University class last fall/winter & that is what enabled us to become debt-free in 2011 using his detailed plan for paying off debt. We're now working on funding our emergency fund with 3-6 months expenses.  I just can't recommend this budgeting program enough! We're thinking of buying it just to have this information to share with friends & family.
Here's what's included in the Dave Ramsey Total Money Makeover Bundle: 
The Total Money Makeover book and workbook
2 DVD Lessons from Financial Peace University
The Money Answer Book
Starter Envelope System  (this is the system we use for paying cash in the stores, restaurants, etc)
Dave's Budgeting Software
This is a fabulous price considering the starter bundle is $39 on the Dave Ramsey site + $25 for the budgeting software & another $5 shipping.
I actually first got interested in Dave Ramsey's Financial Peace University after reading The Total Money Makeover book (above) that friends shared with me. That got me interested & then my husband & I decided to take the full program at our church.  This is definitely not a replacement for taking the full program but it's a great intro or refresher.
Thanks for the coupon codes, Family Frugal Fun!