Daffodil Parade 2014- Saturday April 5th in 4 Locations – Tacoma, Puyallup, Sumner & Orting
This post may contain affiliate links and I may be compensated for this post. Please read our disclosure policy here.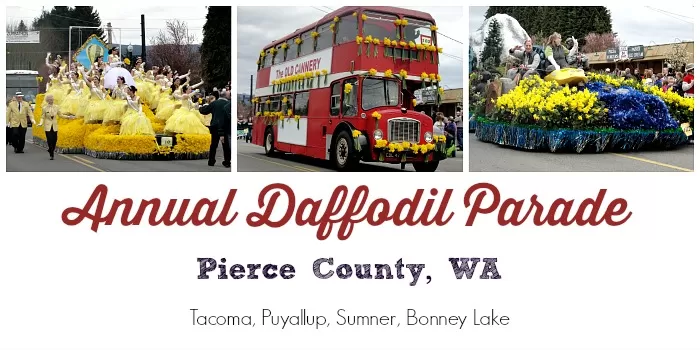 Daffodil Parade 2014
The Daffodil Parade is an awesome event that happens every year in Pierce County, spanning 4 cities and this year is the 81st year that it has taken place. Such a great annual tradition! The Daffodil Parade is early this year – I was surprised to look it up last night & realize that it  is this weekend, April 5th on Saturday in 4 locations around Pierce County. This is a can't miss opportunity for us – we just love seeing the Daffodil Parade every year – it's such a fun one with the Daffodil Princesses on a big float & all the other cool floats filled with spring flowers & bands from local area schools! It's definitely our favorite parade of the year here in the Northwest as I am a sucker for all the flowers! And my girls love seeing the Daffodil princesses all dressed up!
Here's the schedule for the parades:
Tacoma – 10:15 AM
Puyallup – 12:45 PM
Sumner – 2:30 PM
Orting – 5:00 PM
Where is your favorite spot to watch the Daffodil Parade? I love watching in Orting as it's definitely not as crowded but the atmosphere is very fun & lighthearted since it's the last parade of the day!
What are your favorite parades to watch in the Northwest?