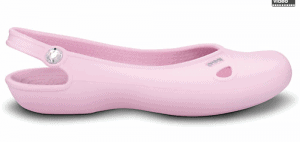 Crocs.com is having a sale on their Olivia shoes for women – they are 50% off, making them just $14.99 plus you'll get an extra discount using the coupon code: OFLAT at checkout. This will drop the price to $9.99. You can also get FREE shipping using the coupon code: SHIPCROCS . This will make the Olivia Crocs just $9.99 shipped, which is a fantastic deal!
I actually own these Olivia shoes in Black & love them – they're so comfortable! I got a great deal on them as well & paid $14.99 last year when they were on sale at Crocs, but this is an even better deal. The Olivia & Malindi Crocs are my favorites for everyday wear.
Don't forget to check out the sale section, too, for more deals – I spotted everything from sandals to the warmer lined Crocs.
20% Off Coupon Code:
Also, if you sign up for the Crocs email newsletter, they will send you a 20% off code to use. (You can combine that with the free shipping code, but I don't think you could combine with the Olivia code). You could use this on another order, though!
Thanks This Beautiful Frugal Life!