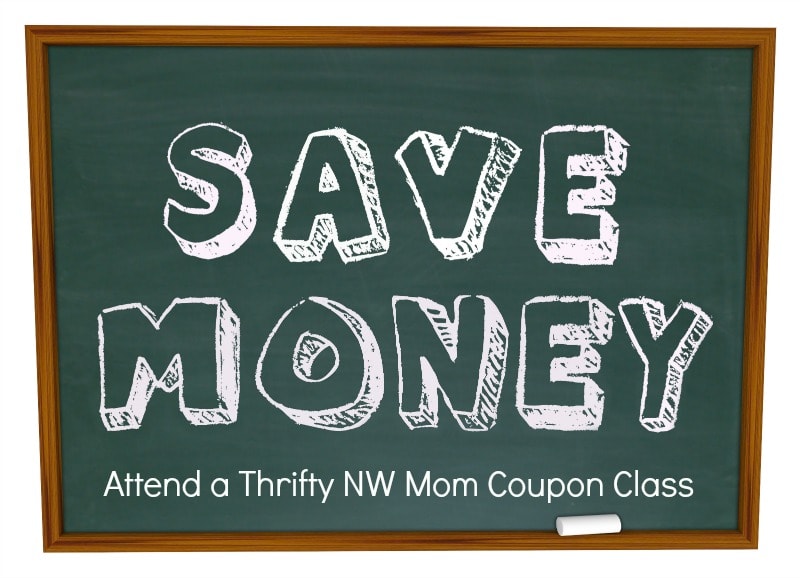 *We still have some spots left tonight for the Grocery Savings class, so make sure to sign up now to come!
We have three upcoming  coupon classes this month, if you're looking to get a handle on your grocery budget & learn some tips on saving at the grocery store & meal planning.  This is the perfect time of year to get control of your budget and learn how you can cut your budget significantly by strategic shopping strategies, meal planning like a pro and learning to shop with coupons effectively.
Here are the classes we are offering in March::
Date: Thursday March 6th – 6 – 8pm
Cost: $5/person
Address:  3415 Lincoln Blvd SW, McChord, WA
*Make sure to register ahead of time on Eventbrite so I know how many pamphlets to bring to class.  This is open to those who have access to JBLM. 
What Will I Learn in a Grocery Savings Class?
At the  Grocery Savings classes, you'll learn coupon basics, plus tips on outsmarting the marketers and getting healthy meals on the table without spending all day in the kitchen.
Our Coupon Workshops will Offer:
Learn how to save 50% or more on your groceries.
Learn how to get the best deal on meats, produce, and dairy.
Connect with others, make new friends, and find a savings buddy.
Learn how to turn your deals into meals.
*Every attendee will receive a Grocery Savings handout filled with valuable tips and resources.  We also have fun giveaways at each class!
*****************************
Upcoming Coupon Classes:
Tuesday March 11th  from 6 – 8 pm
Cost: $10 for Puyallup residents; $12 for non-residents
*You will need to sign up through the Puyallup Parks & Rec office – Call 253-841-5457 or you can stop in person, too. Registrations will be taken until the class time.
*We do need a minimum of 10 people to hold the class, so make sure to invite your family & friends.
*************************
Meal Planning Simplified Class – Marysville Parks & Recreation , Community Center location
Saturday March 29th  – 10:30 – 12:30pm
Cost: $12 / person
Address: 514 Delta Ave, Marysville Community Center
* To register head to Marysville Parks & Recreation site, hit the eplay button.  It will guide you to the class to register!  You can also reference class #12394 to be taken to the class instantly. 
*We do need a minimum of 12 people to hold this class, so make sure to invite your family & friends, too.
***************
What will I learn in a Meal Planning Simplified Class:
Learn meal planning tips and tricks that will revolutionize the way you prepare meals for your family! Following the workshop, you'll have a better understanding of the different ways to make a meal plan, how to make your meal planning successful, along with cooking strategies and shortcuts to help you spend less time in the kitchen while still making fabulous healthy meals for your family.
Want to Schedule a Coupon Class for your Group?
If you're interested in scheduling a class for your group or organization, we do offer lunch & learn workshops for businesses, as well as public & private coupon classes for groups! Email us at thriftynorthwestmom (at) gmail (dot) com to discuss scheduling a class.  We are now booking for winter & spring, so we'd love to hear from you if you have a church, group of friends, or business and are interested in setting up a class.
Advertise your business to local customers:
If you're a local business & are interested in spreading the word about your business to families in the area, you can email us at thriftynorthwestmom (at) gmail (dot) com to discuss a variety of advertising & sponsorship possibilities.