Complete Knife Skills Class – FREE
Have you witnessed the art of a chef's knife work? Do you want a little help in the kitchen? Here's a great way to learn those same knife skills with this Complete Knife Skills Class for FREE from Craftsy.com! Learn how to master the art of using a knife in the kitchen to cook more professionally.
Guided by chef Brendan McDermott, you'll explore proper hand placement and the four fundamental cuts. Learn to dice, mince and julienne a range of produce. Find out how to chop herbs without bruising them or losing flavor, and never again cry when cutting an onion. Uncover Brendan's favorite shortcuts for working with butternut squash, pineapple, chiles, citrus and more. Discover the four knives every chef needs in their kitchen, and finish the course with a lesson on honing and sharpening your knives at home!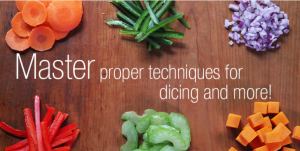 In this class you'll get 2 hours of close up instruction, 4 lessons with anywhere, anytime access with downloadable class materials, including 4 recipes.
I could definitely use a knife course like this, cutting up a pineapple terrifies me. 
Thanks The Coupon Project!